Siteglide benefits of our extract system Siteglide helps Digital Agencies transform websites into scalable Digital Experiences such as eCommerce Stores, Membership Sites and Customer Portals.
Summary of Features
Platform
User Community
SEO
Flexible Navigation
Management
Enterprise Scalability
API / Integrations
Content
Content Authoring
Rich Text Editor
Plug-ins/Widgets/Apps
Asset Management
Internal Search
Content Repository
Design
Customization
Content Management
Asset
Portals and Sites
---
6+ Tools in one in siteglide. Fully Customisable.
The CRM at the core makes the CMS, eCommerce, WebApps, Transactional Email and Reporting tools even more powerful than individually.
---
Pages
Build SEO Optimised pages quickly andeasily. Easily add dynamic content and Siteglide Modules using Toolbox.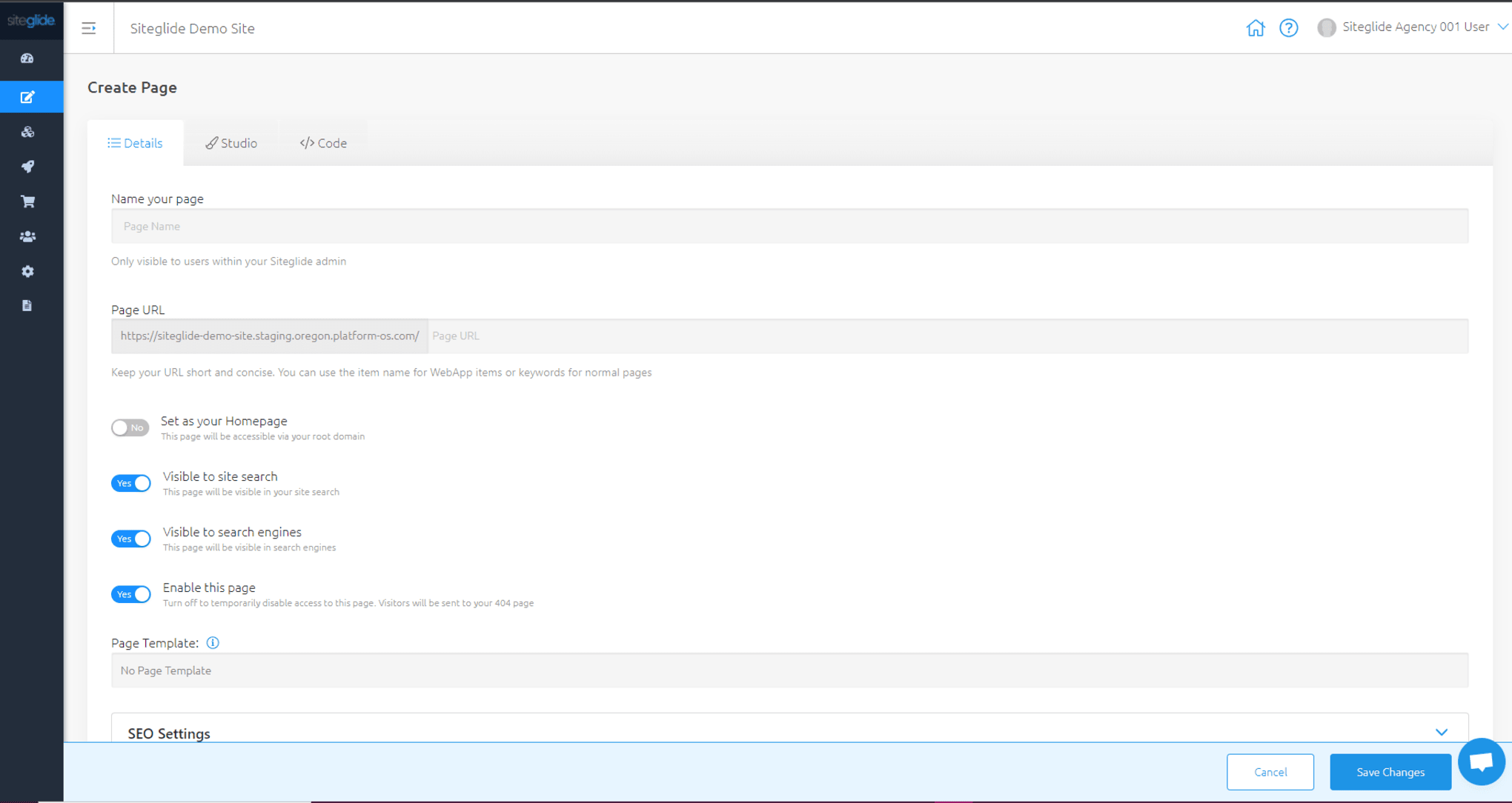 ---
Users
A CRM at the heart of your website that powers Forms, eCommerceand secure user content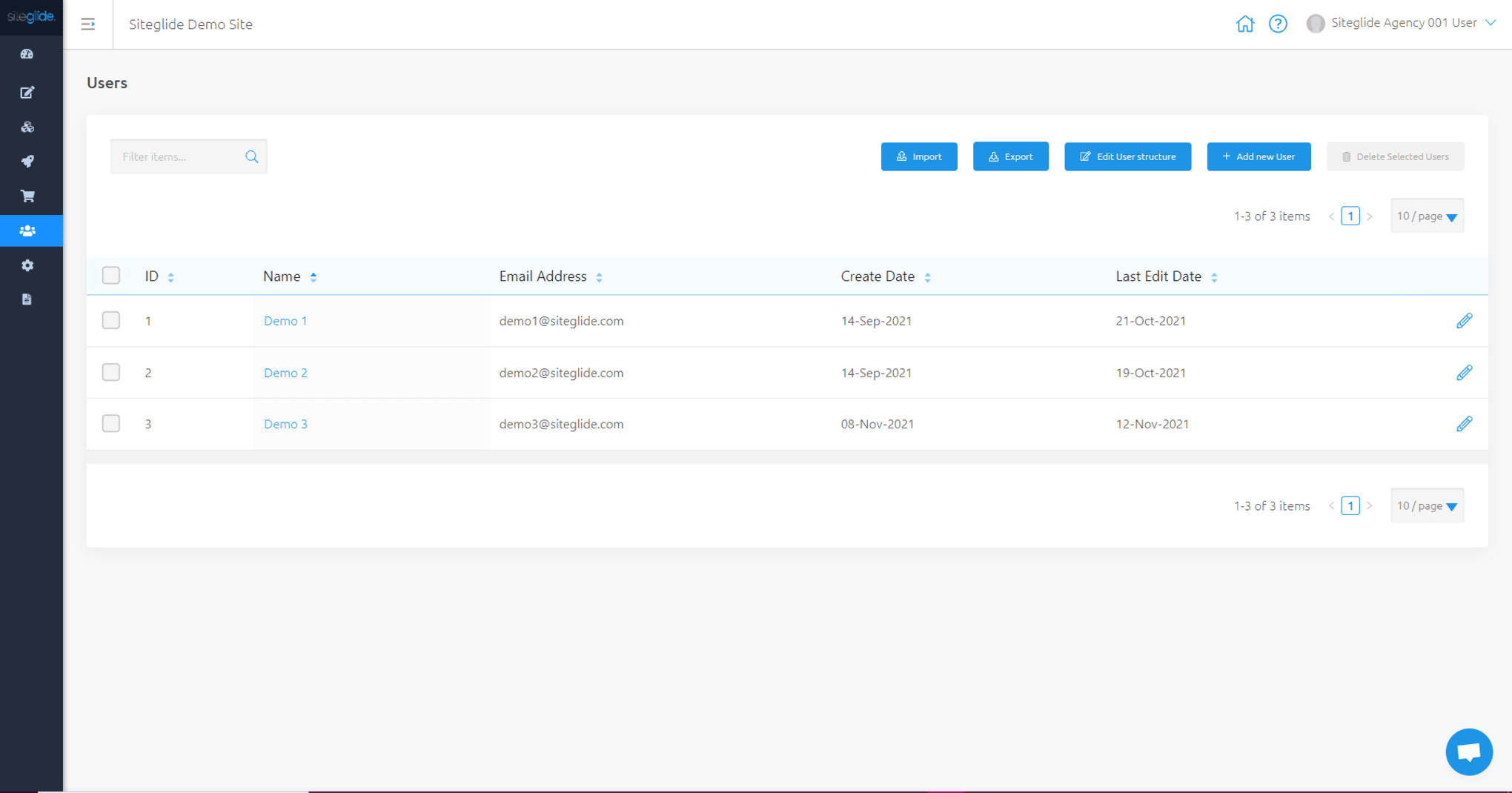 ---
Add Forms
Create completely custom forms in just a few clicks. Complete with autoresponders, workflows and case history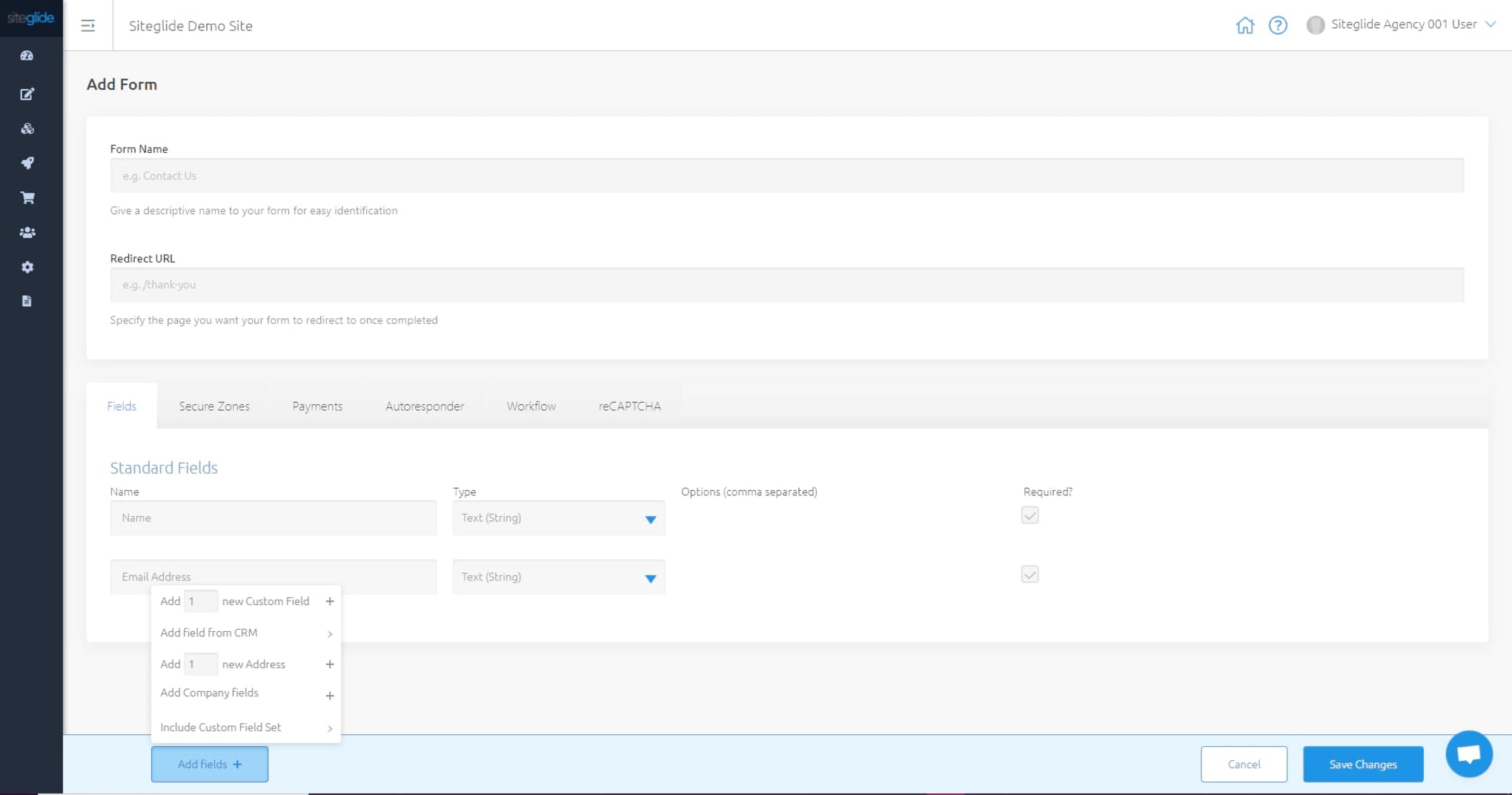 ---
Add Products
Easily manage eCommerceProducts that form the core part of your online store.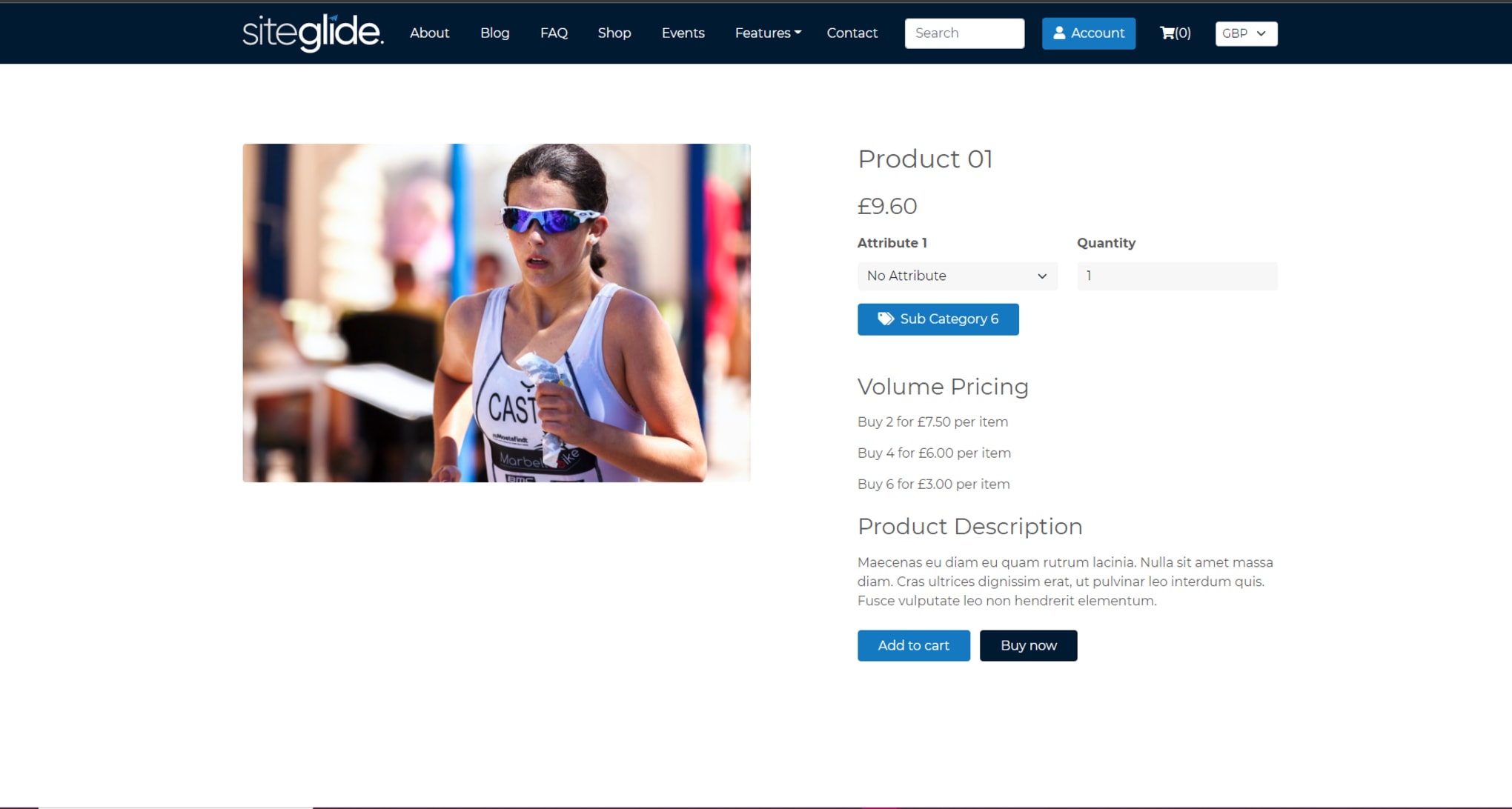 ---
Workflow
Send emails to staff and suppliers based on specific actions such as Orders, Form Submissions or other activity.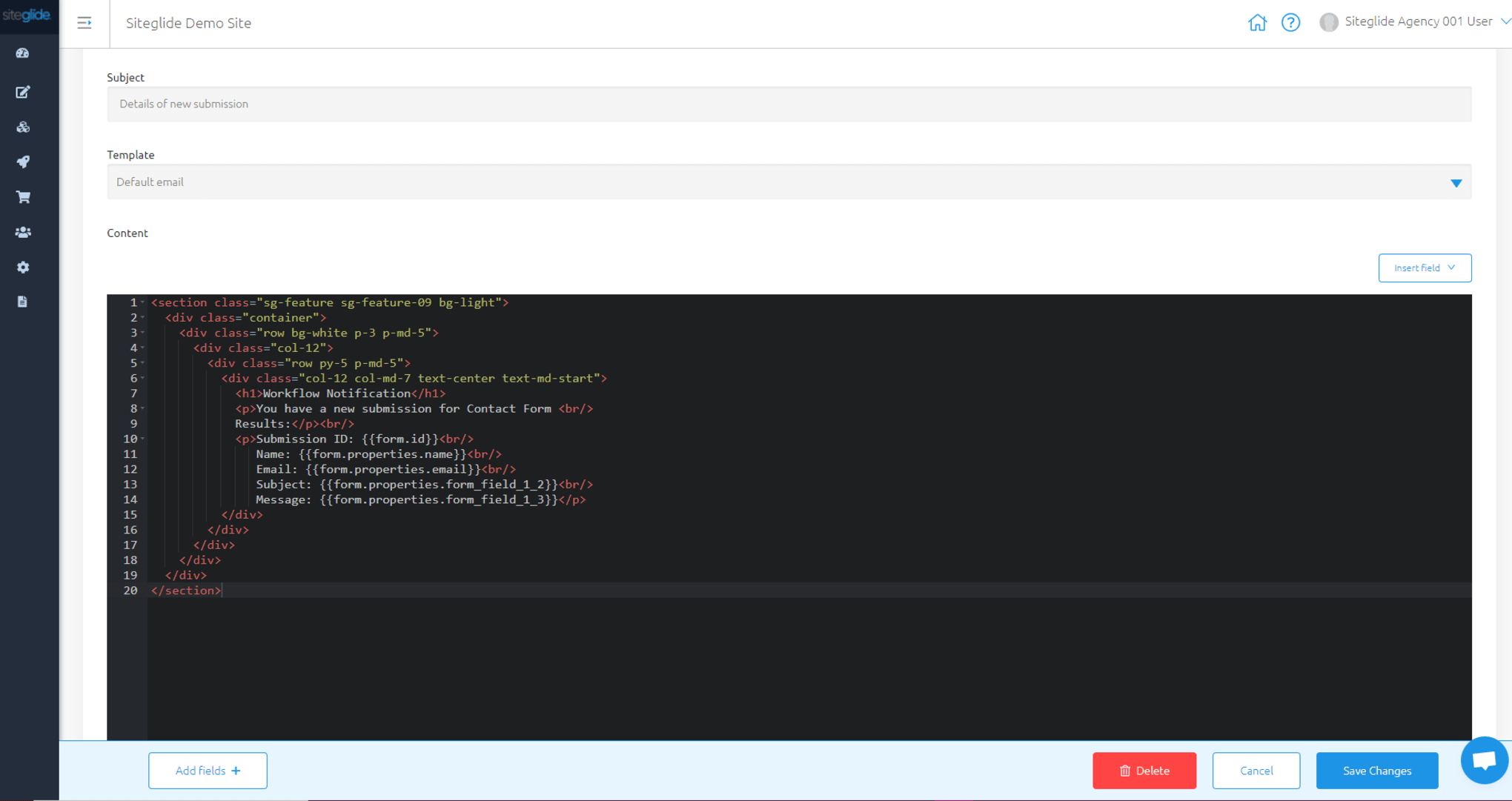 ---
File Manager
Manage images, documents and other files with ease. Drag and drop from your computer, manage folders and much more.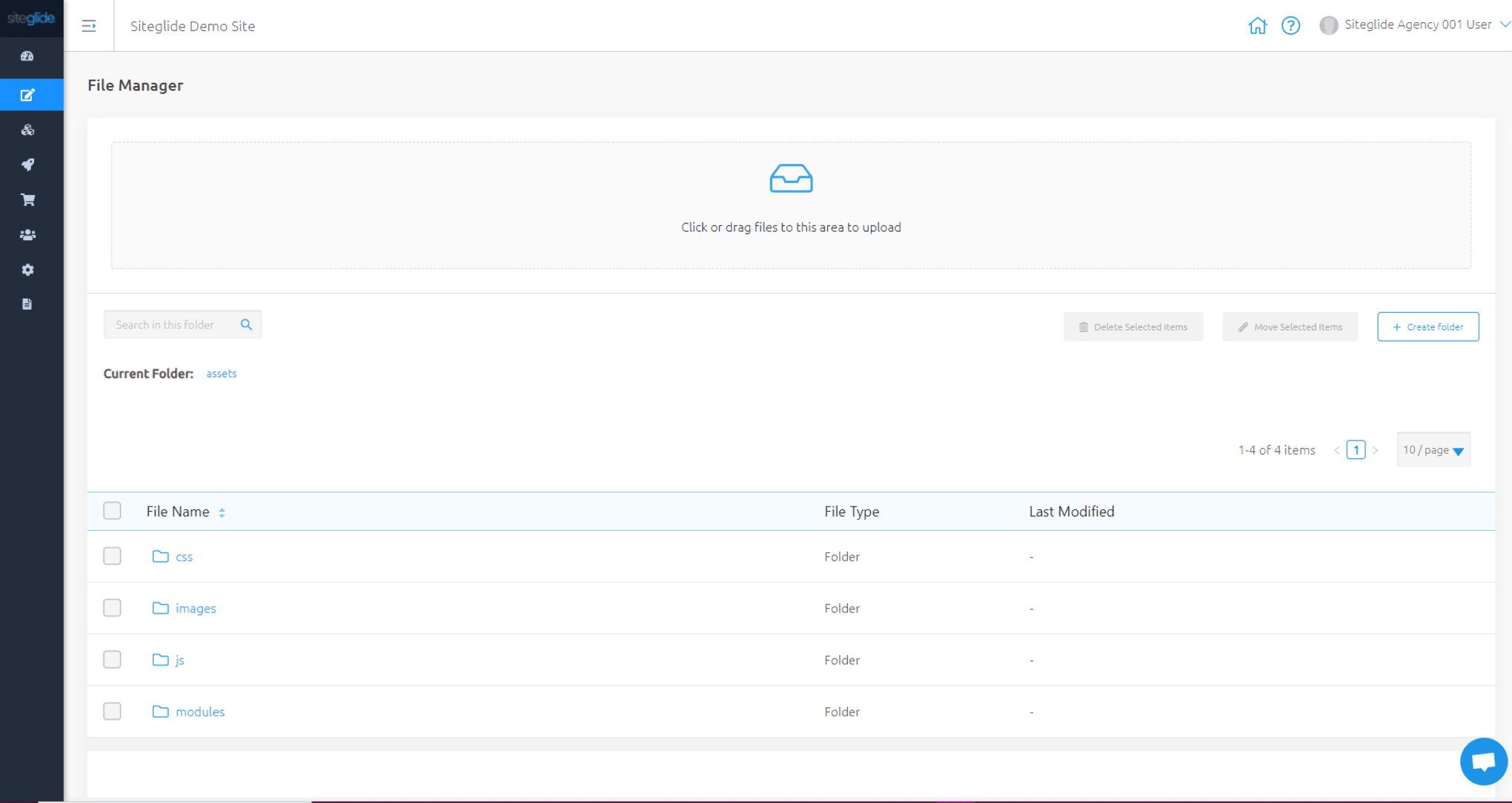 ---
Cases
Track visitor/user engagement with case history for any completed forms.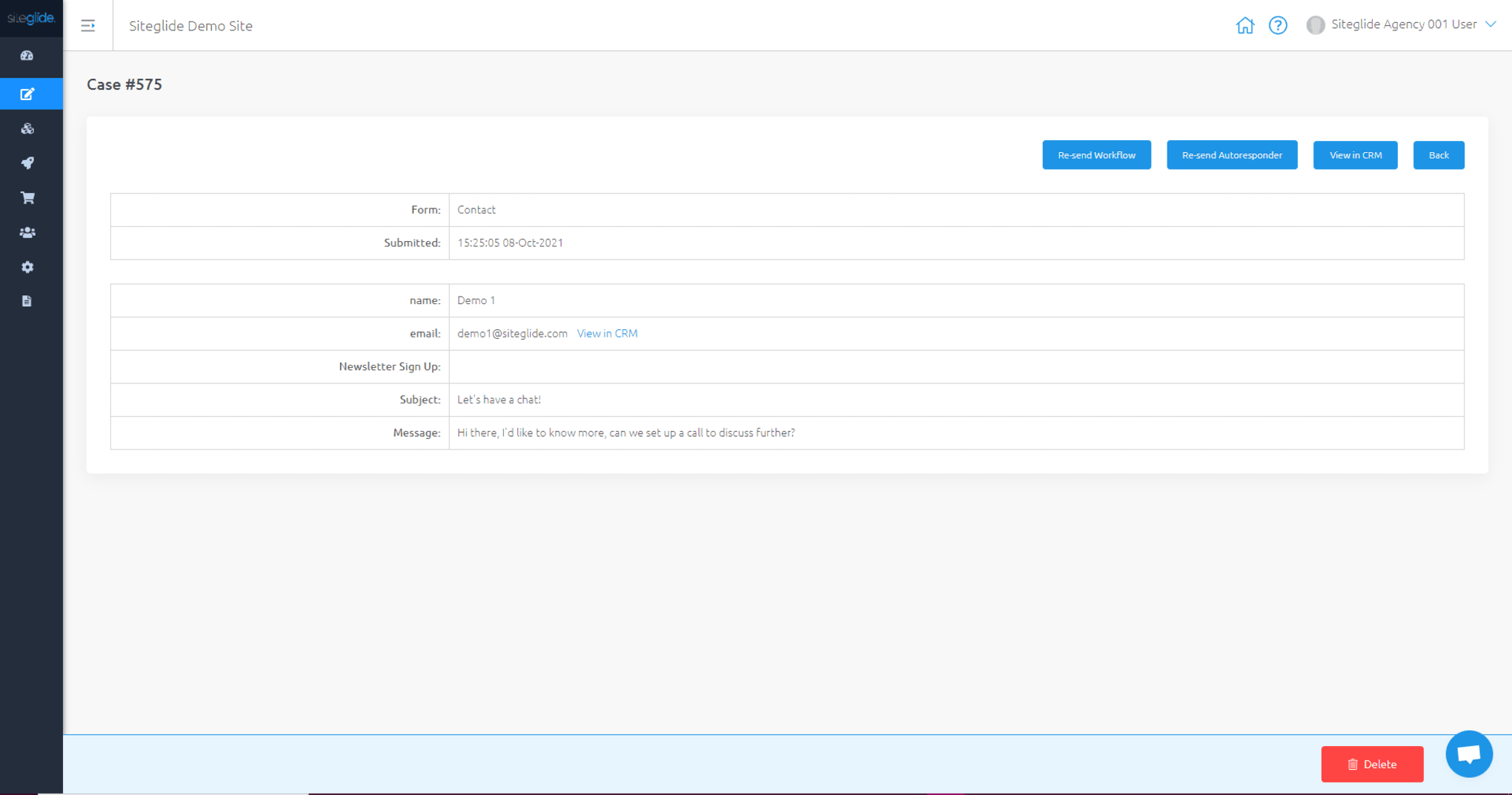 ---
Catalog
Use the Global Categories feature to create Catalogsand dynamic linking for your store.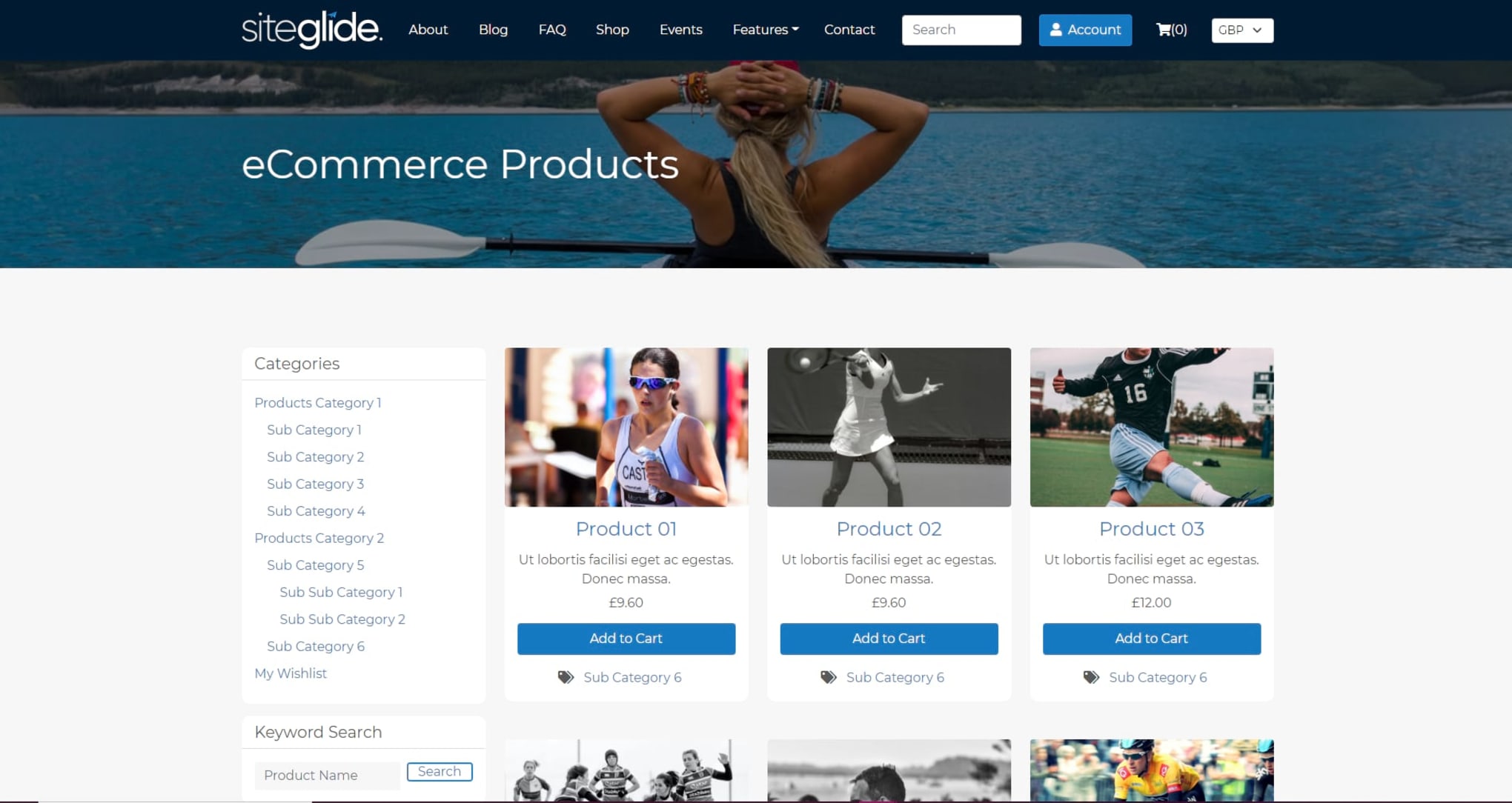 ---
Auto Responders
Automatically send emails to users based on various actions including form submissions.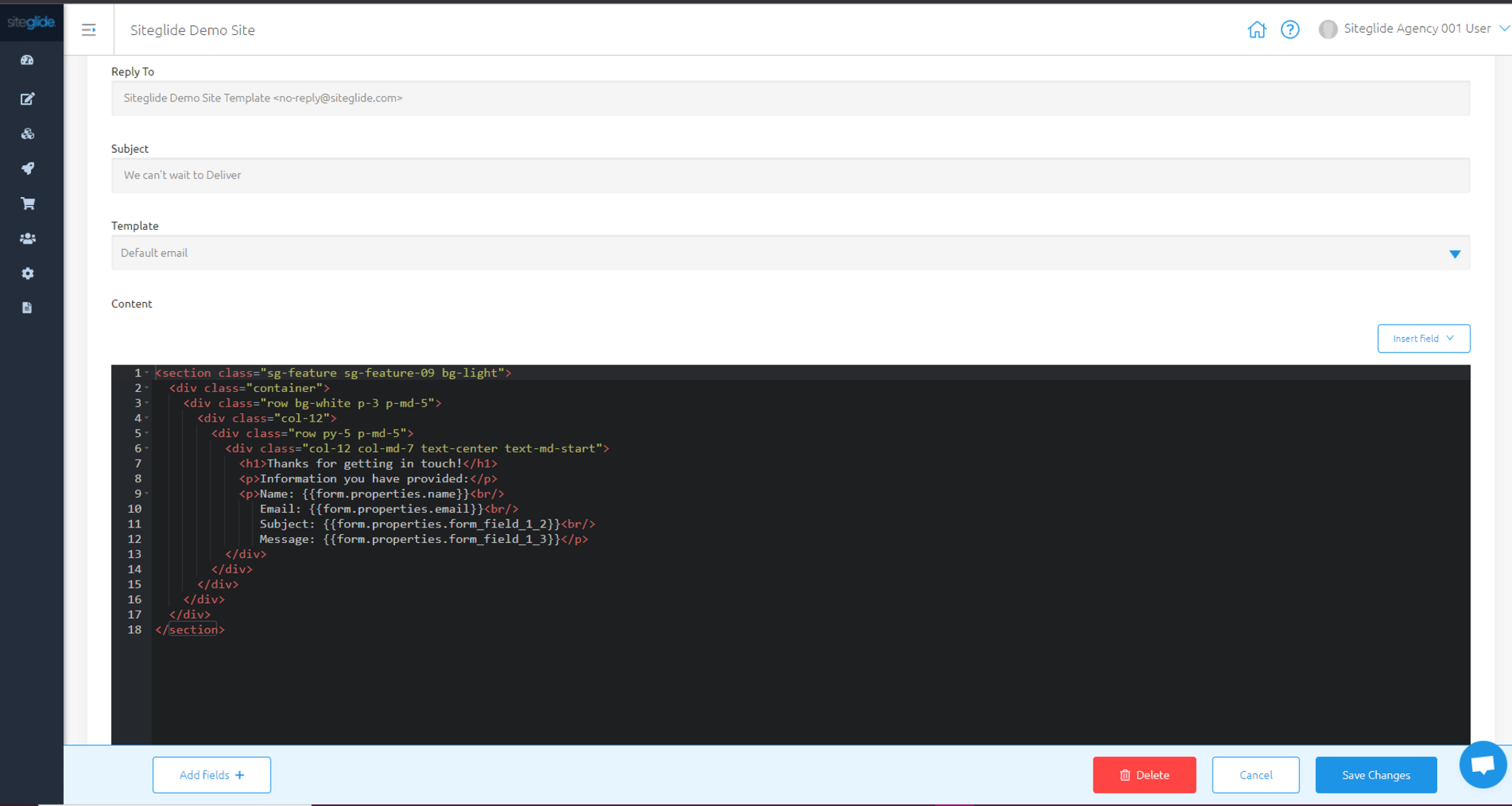 ---
Orders
Manage Orders via the CRM, export data or connect to 3rd party systems to automate workflows.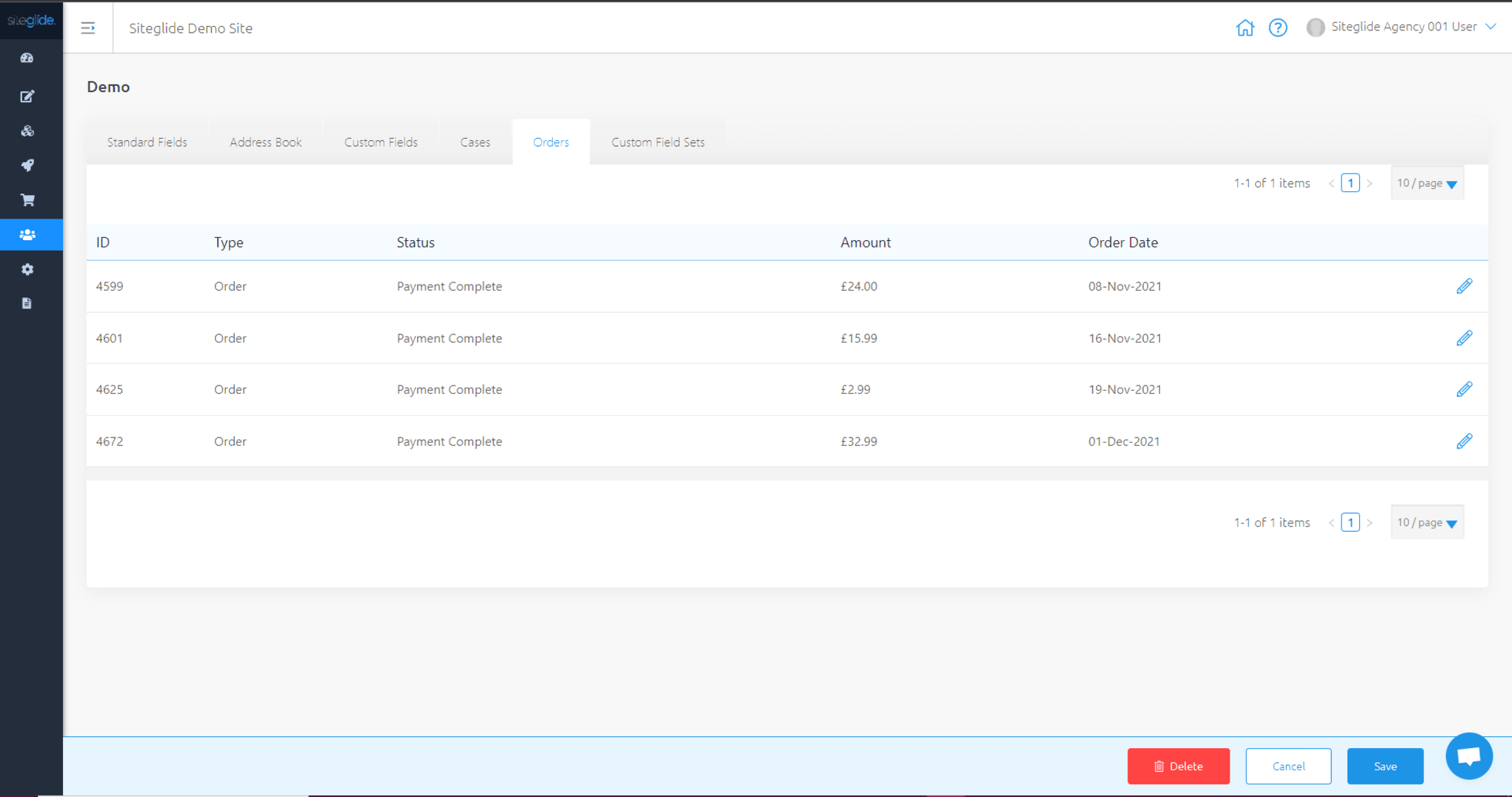 ---
User Import/Export
Take total control over your data with CSV Import and Export control.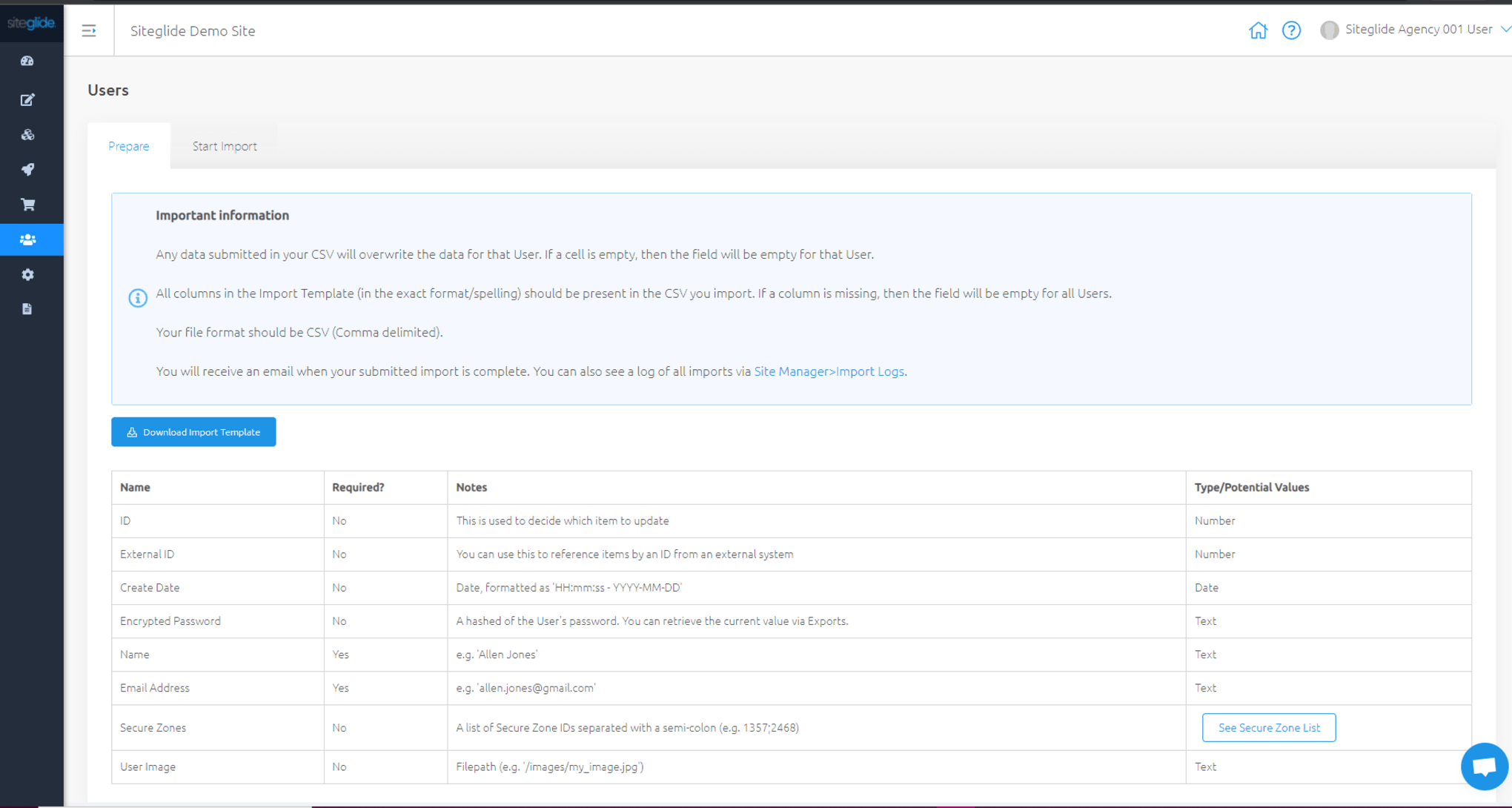 ---
Categories
Build SEO and UX friendly structured content with ease. Manage data driven content for websites and applications.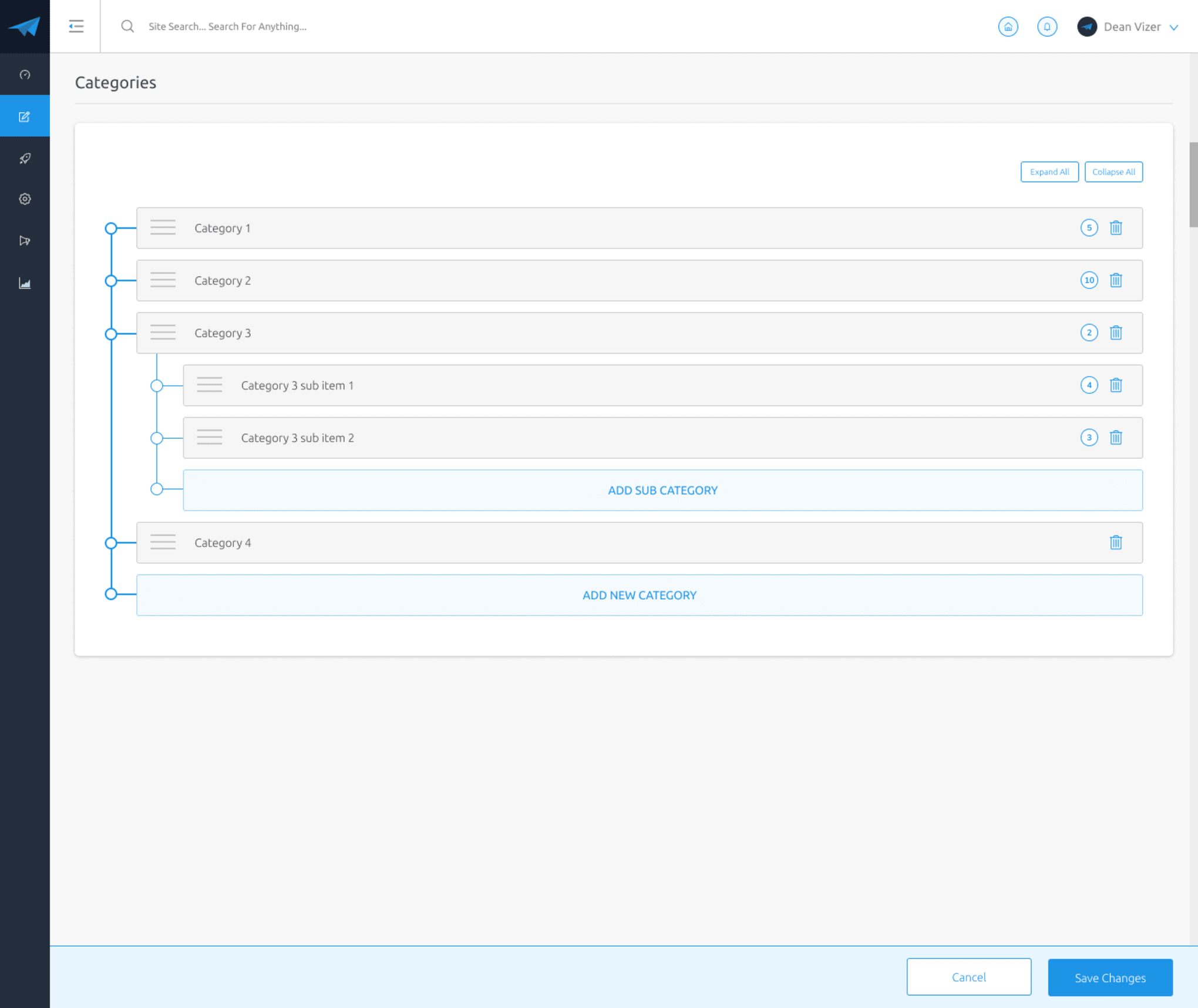 ---
Dashboard
Quickly find the relevant areas to manage your site. Full reporting suite coming soon!
---
Company Information
A simple but essential feature to keep important information up to date such as phone numbers, addresses and social links.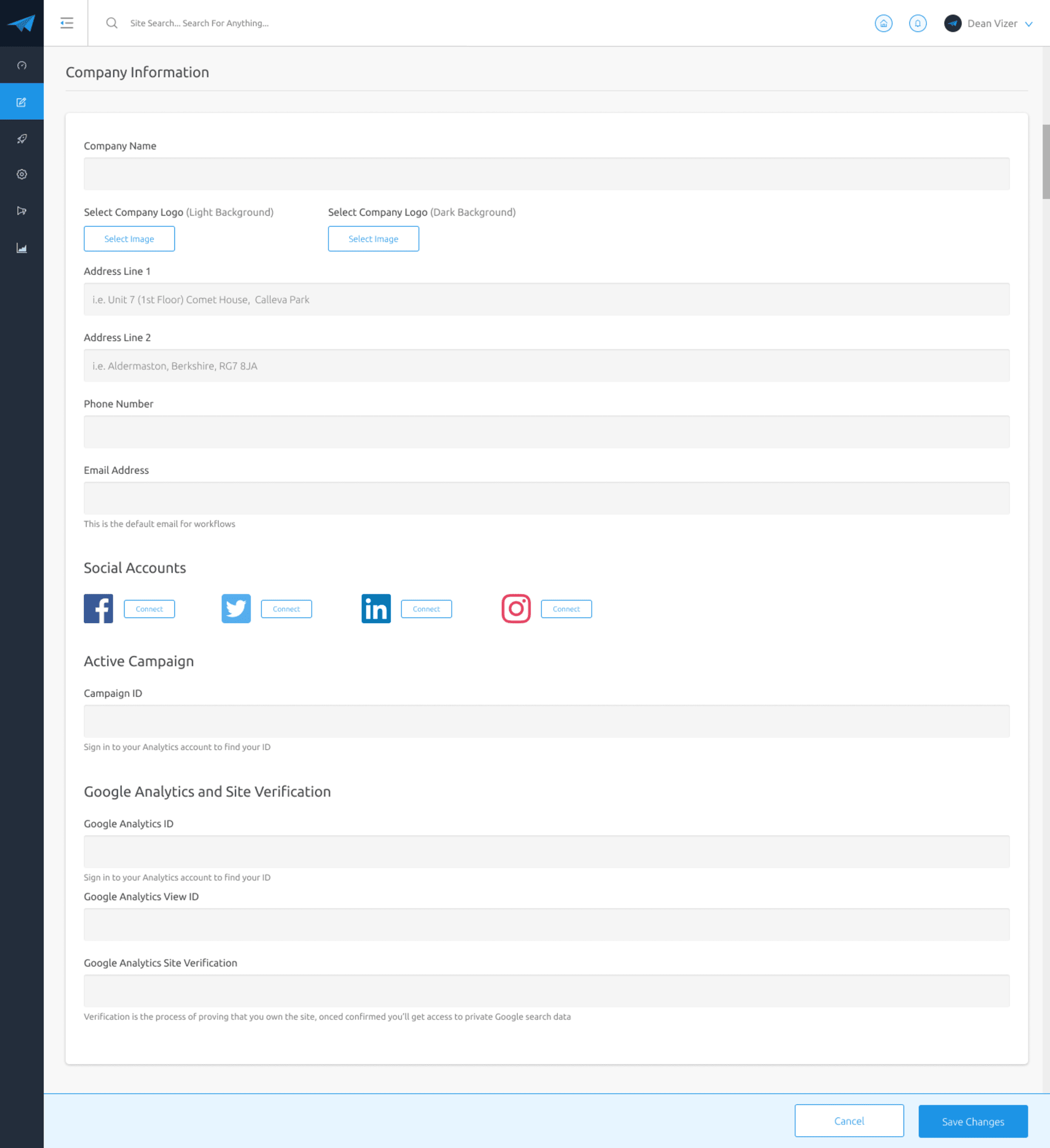 ---
URL Redirects
Quickly redirect pages and manage 301s for complete SEO control.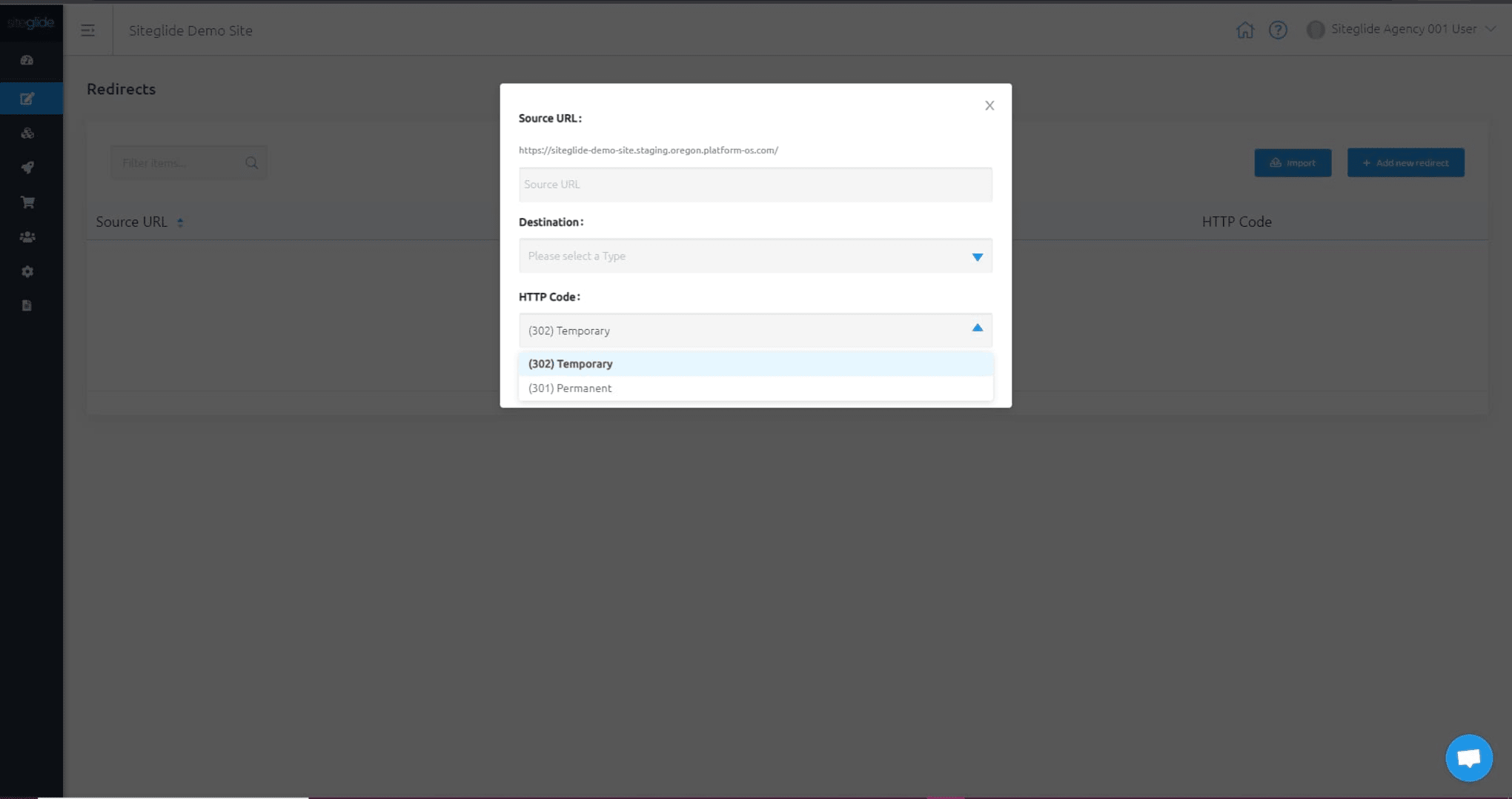 ---
Blogs & News
Create and manage blog articles on your website with ready-made categories for filtering, searching and archiving.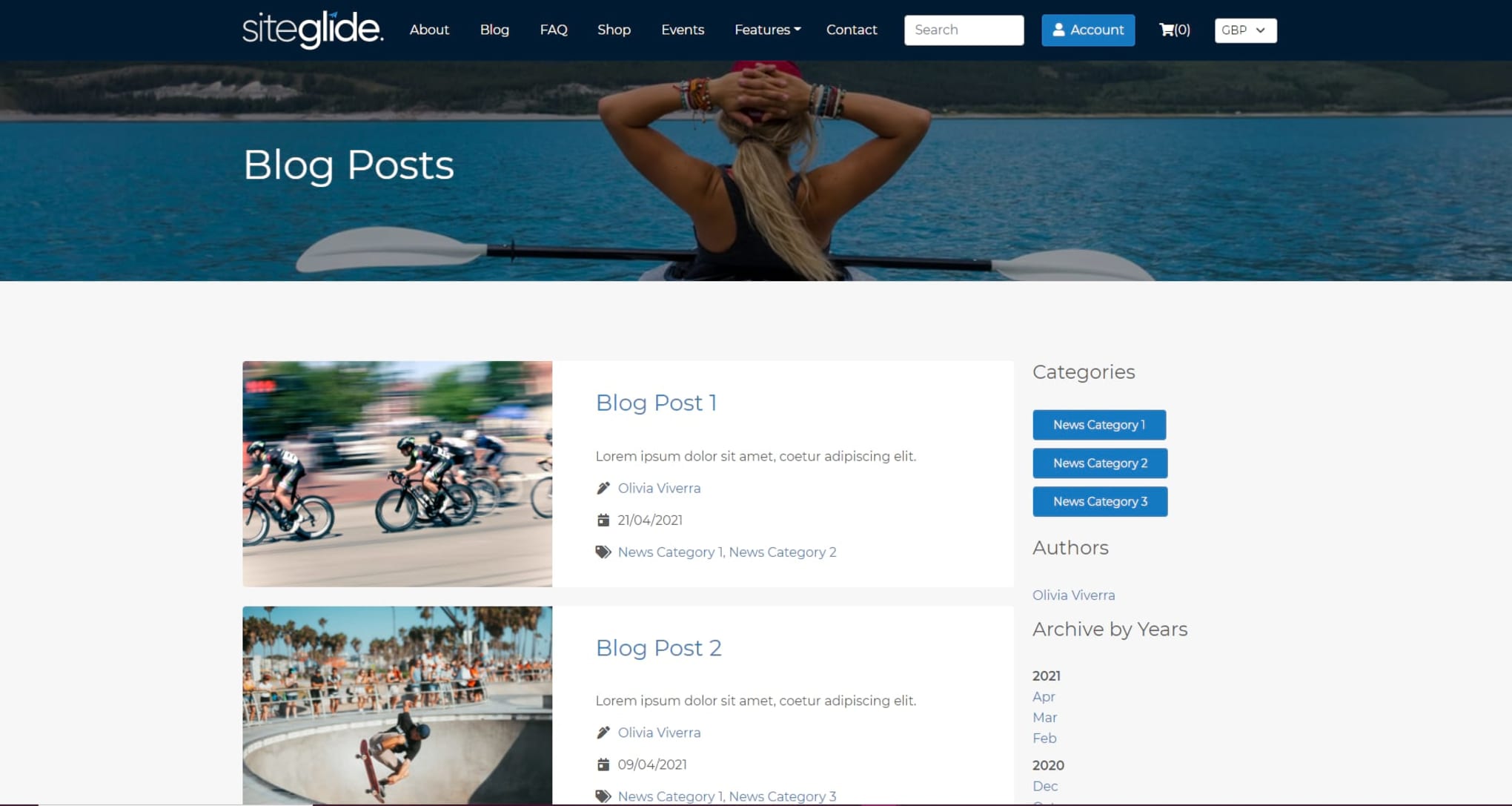 ---
Fully Responsive
Siteglide is built to work on any device and our section layouts are responsive straight out of the box.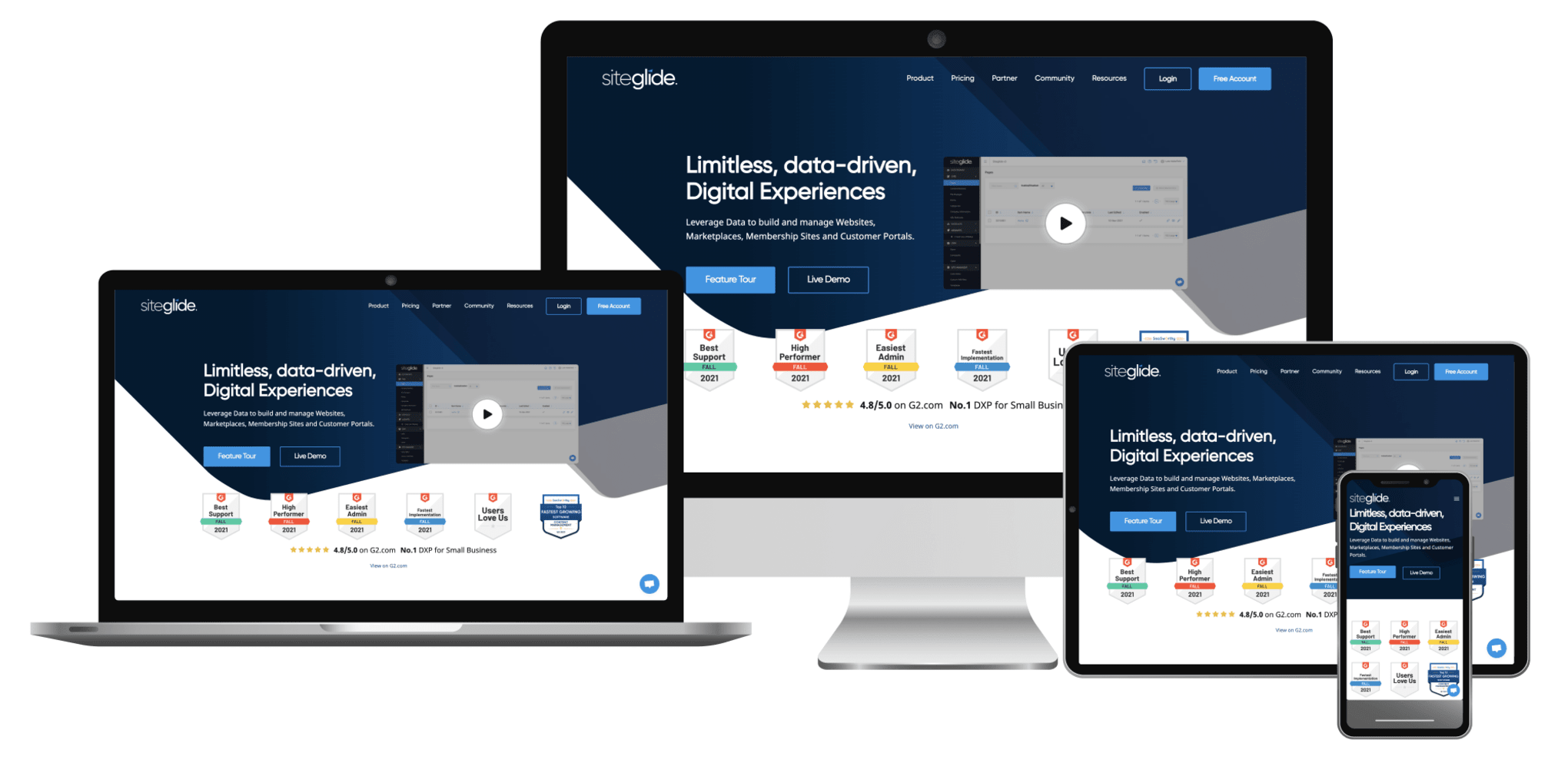 ---
SEO Ready
We have built all the necessary Search Engine Optimisation tools right into the core of Siteglide.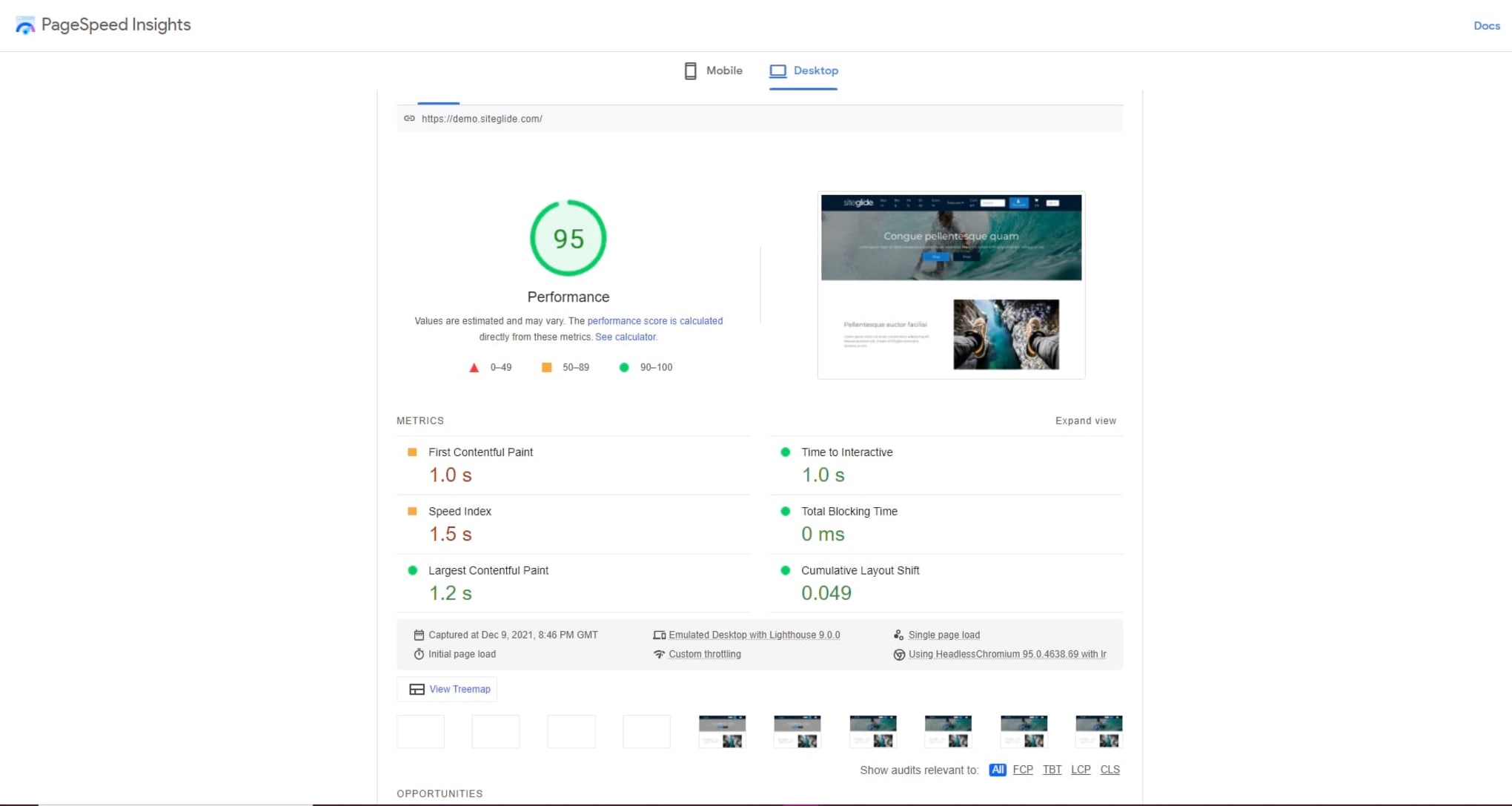 ---
256 bit SSL Certificate
Every Siteglide website comes with a SHA-256 Amazon SSL certificate to ensure your site and your visitors are protected.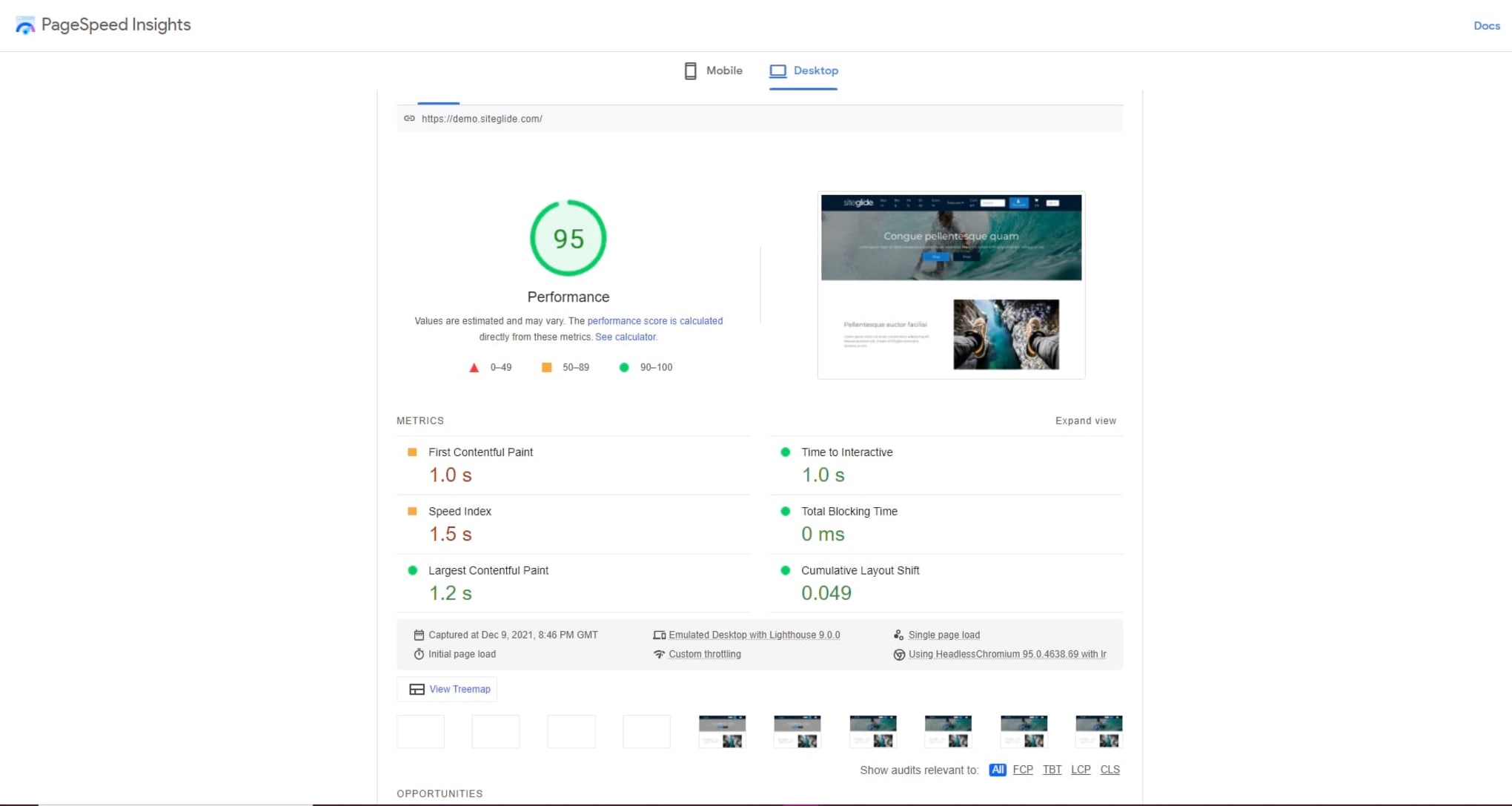 ---
AWS Hosting
Amazon Web Services (AWS) is the industry standard in hosting and helps ensure security, speed and reliability.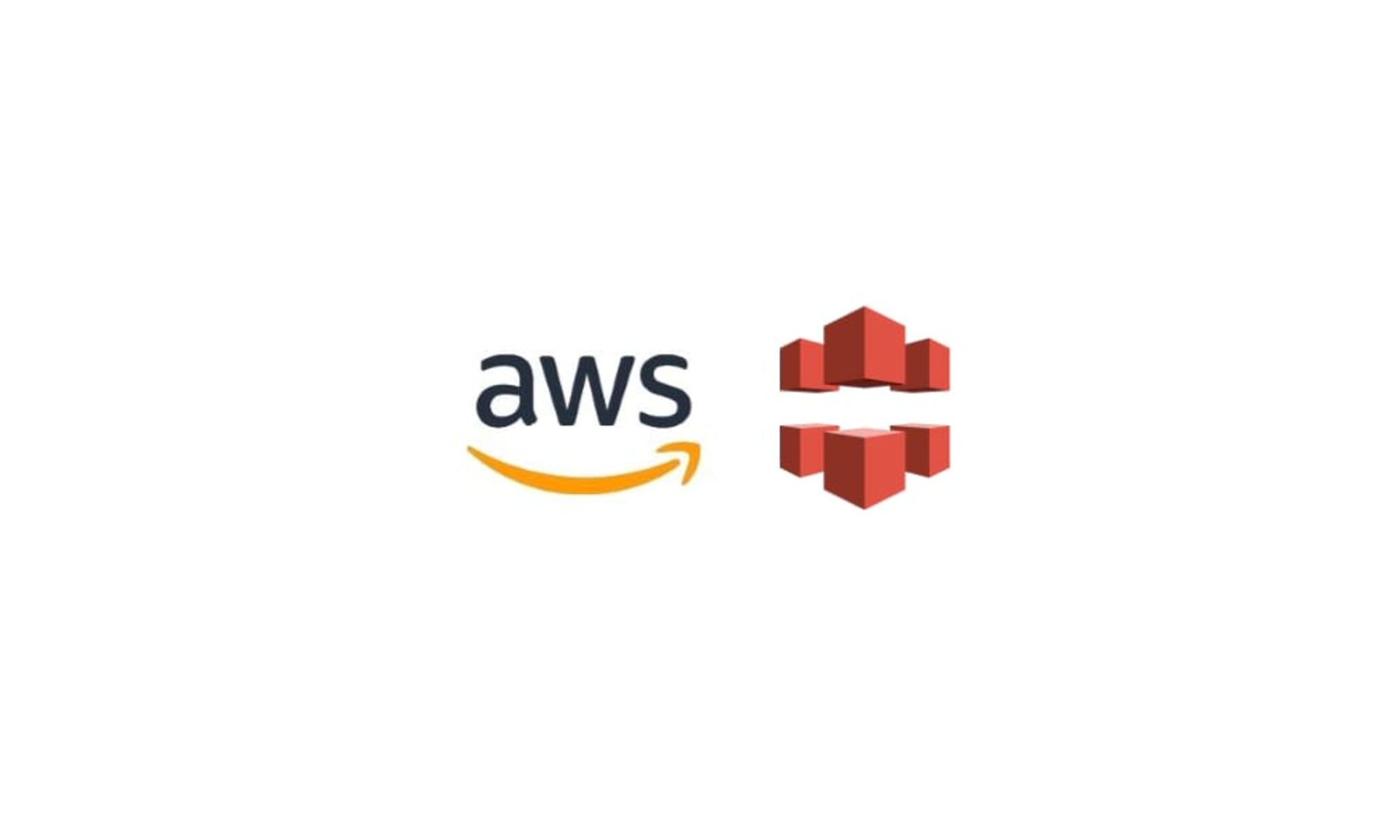 ---
Visual Editor
Our Visual Editor redefines how businesses and marketing agencies manage content: with ease.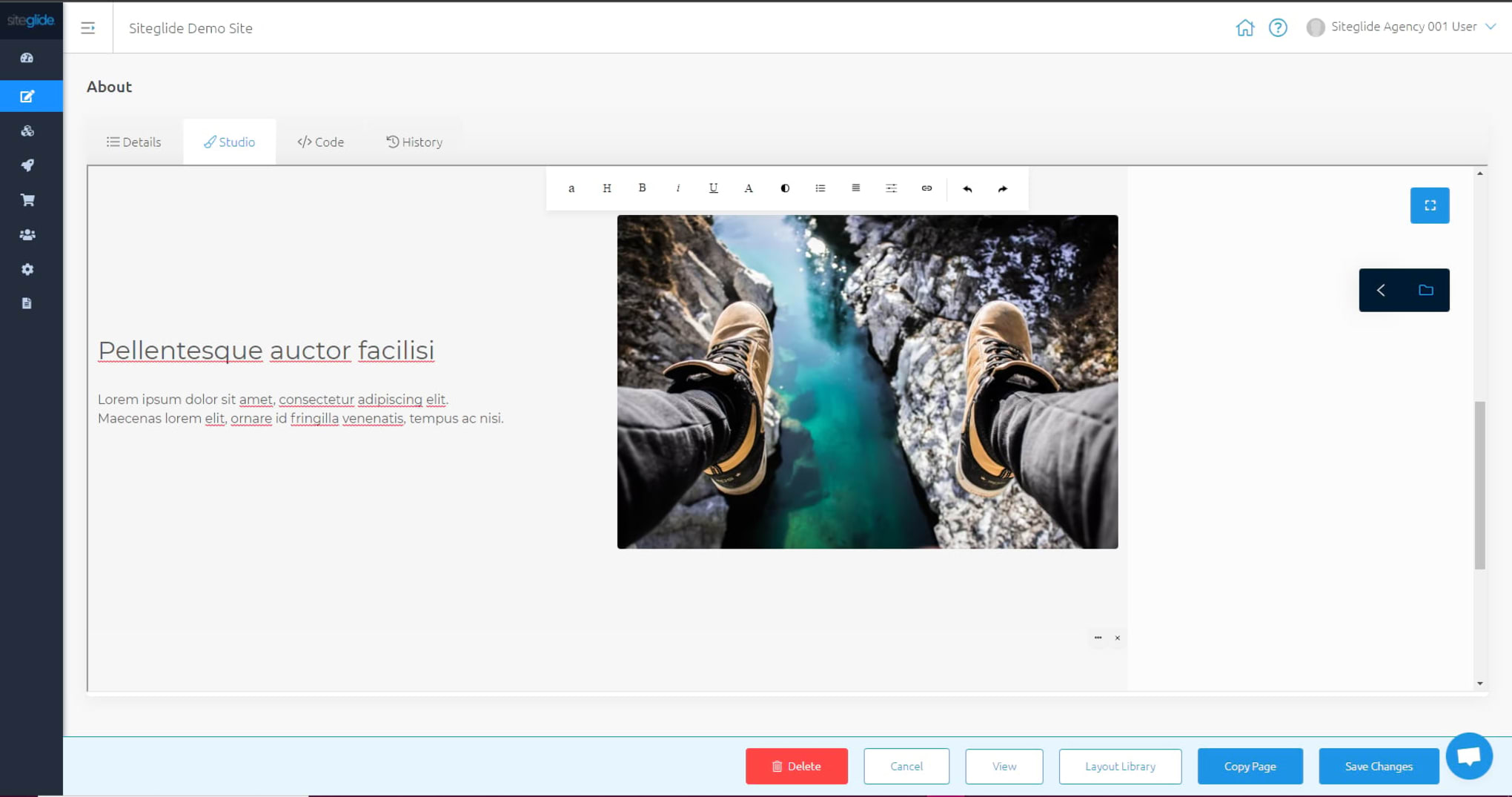 ---
WebAppBuilder
Build bespoke databases without any technical expertise. Simply point and click to create fields and insert data.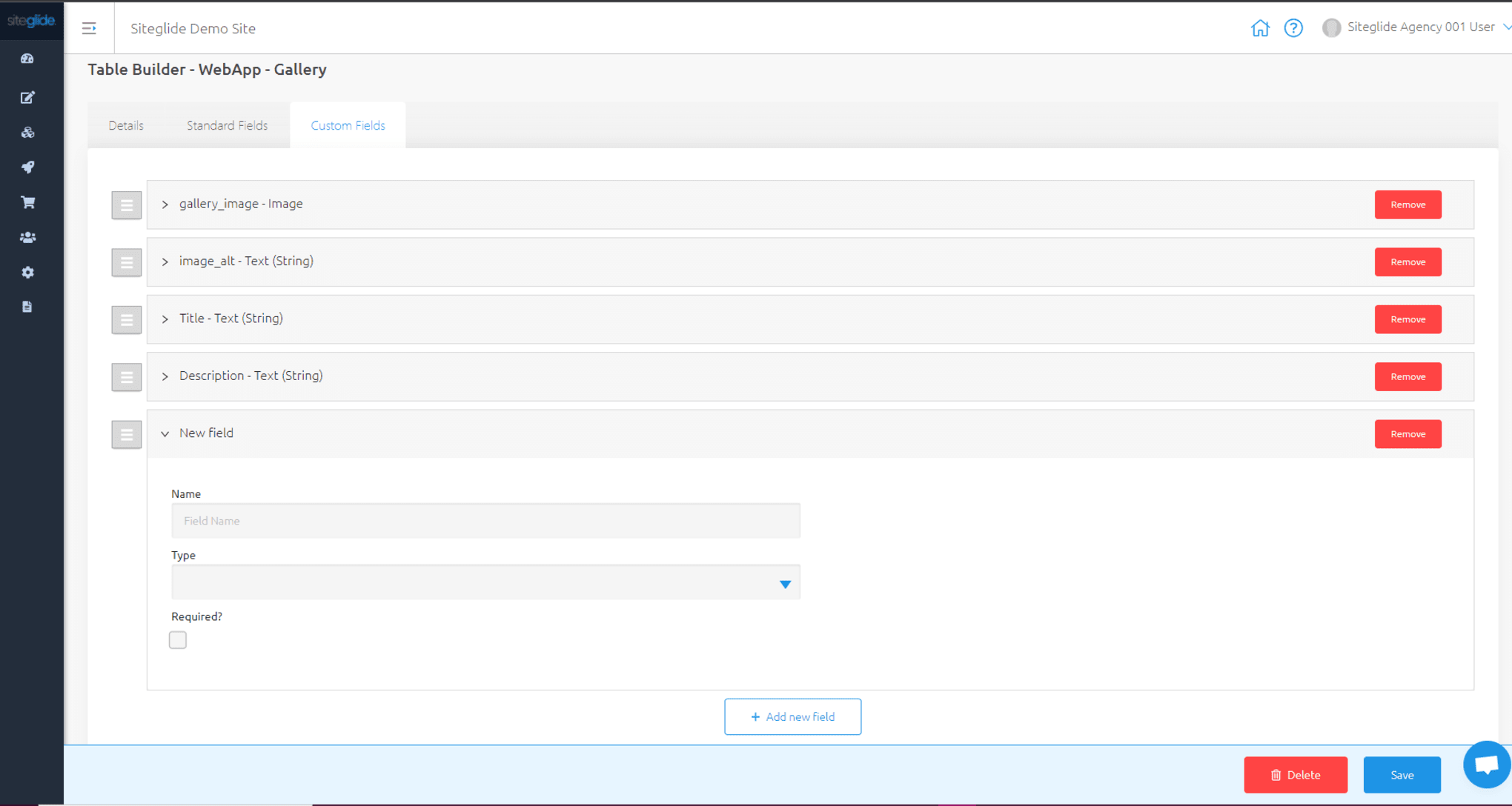 ---
Menus
A really easy way to manage the navigation for your site. Pick which pages to show and how they appear.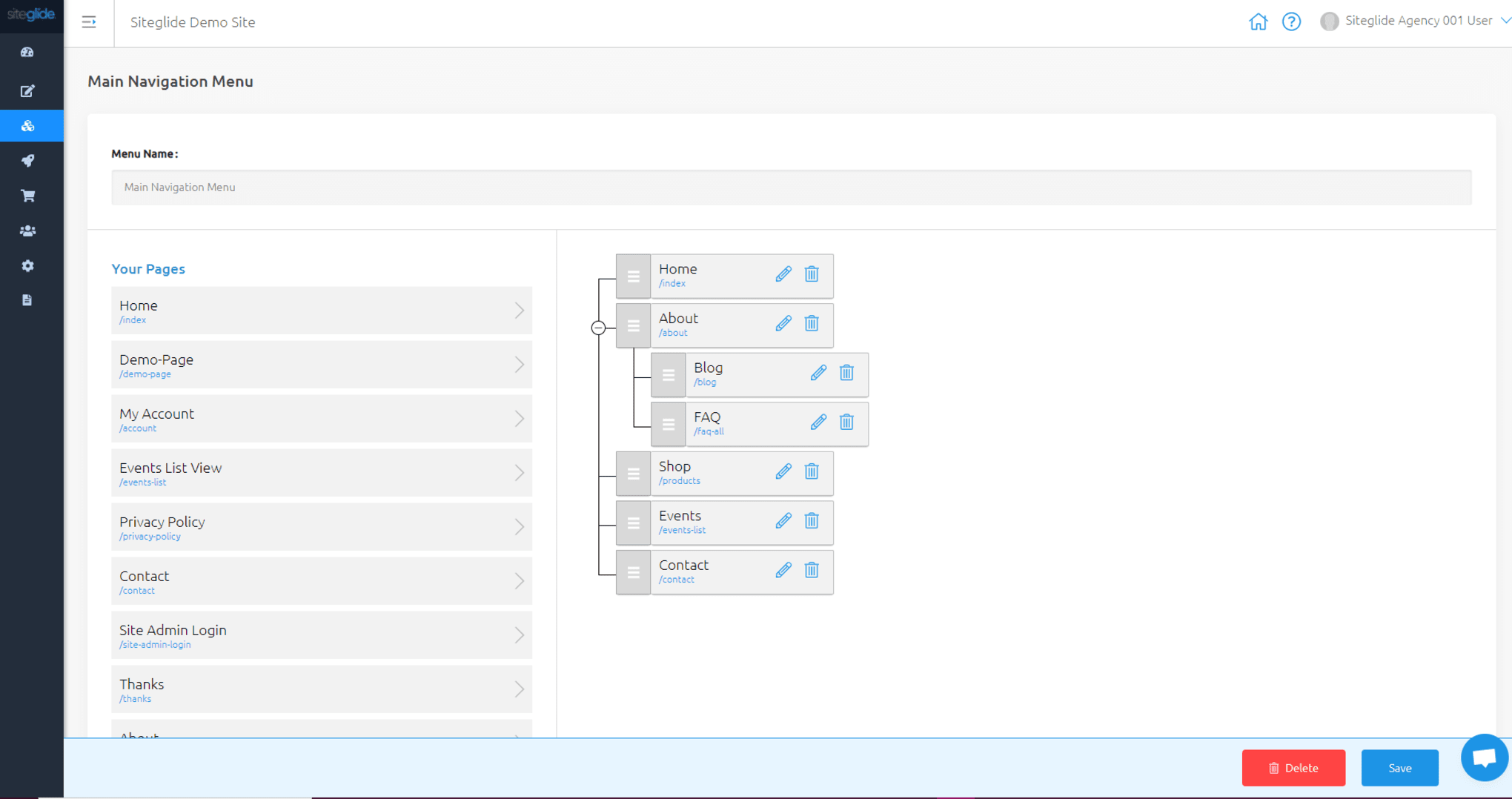 ---
Code Editor
Customise our best practice responsive layouts or build your own, you're in charge.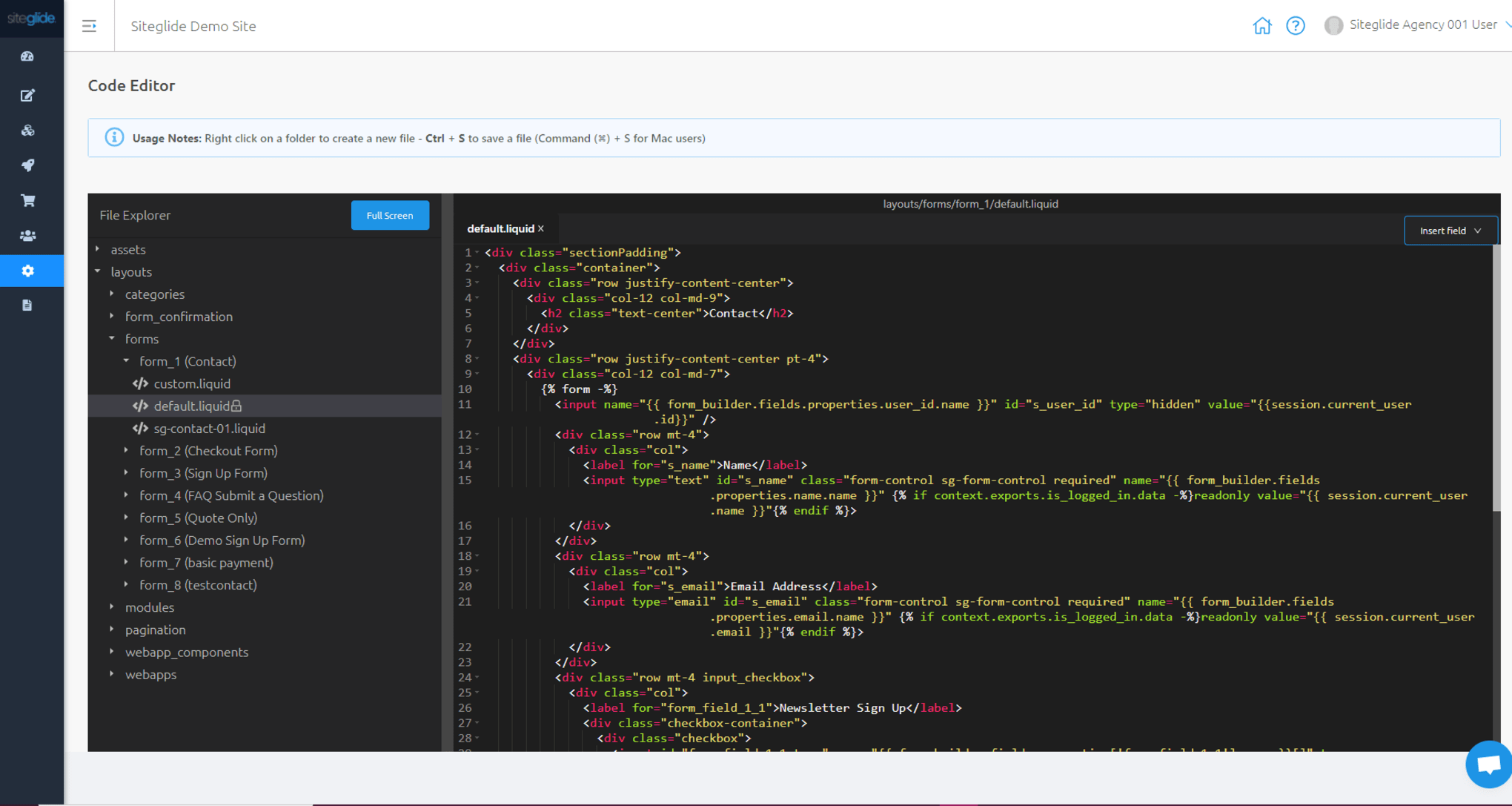 ---
Google Analytics
Integrate any Siteglide site with Google Analytics to capture vital statistics and help you improve your marketing.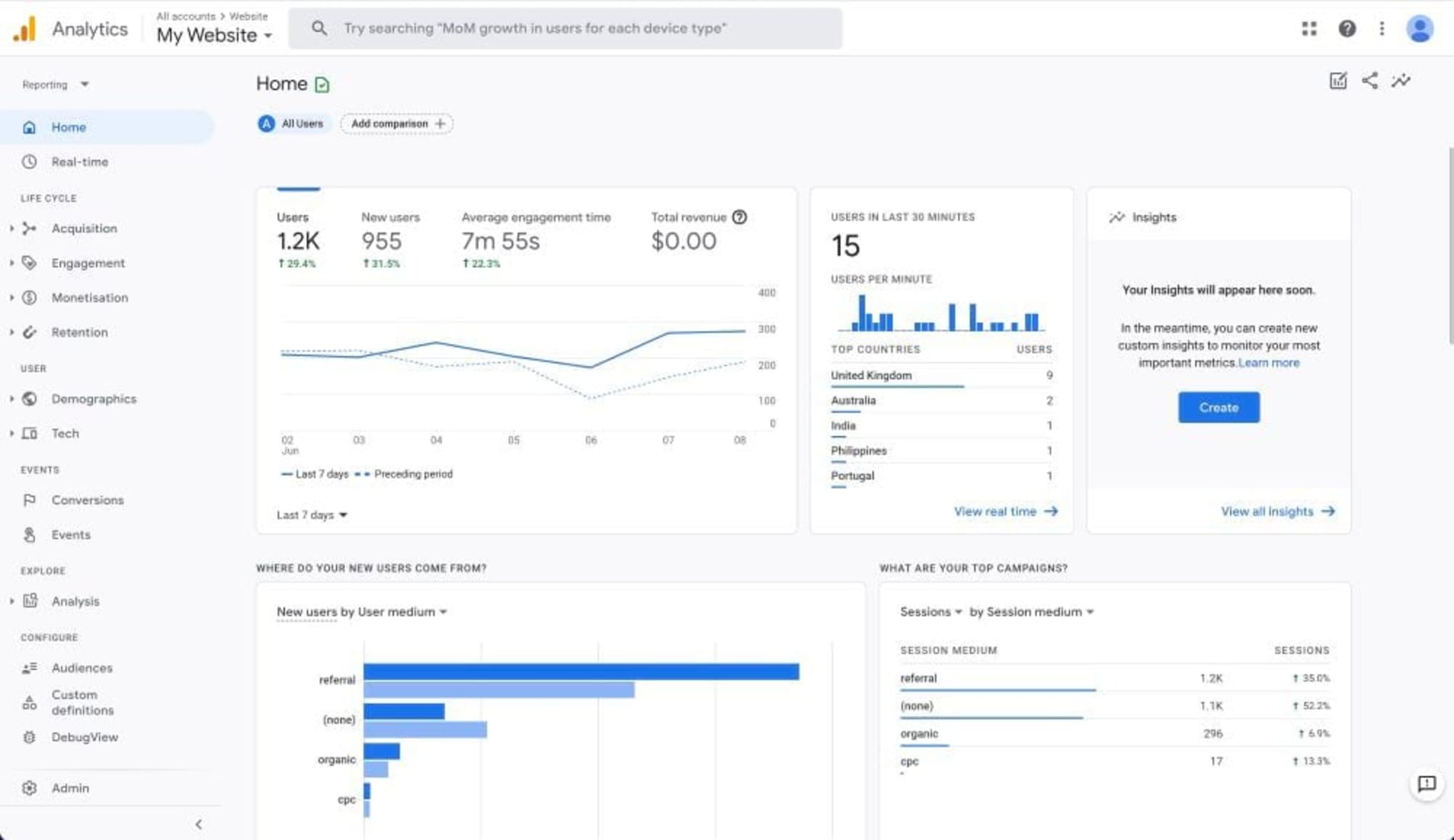 ---
Import/Export
Easy CSV Import and Export of WebAppItems. Quickly create and update content from spreadsheets.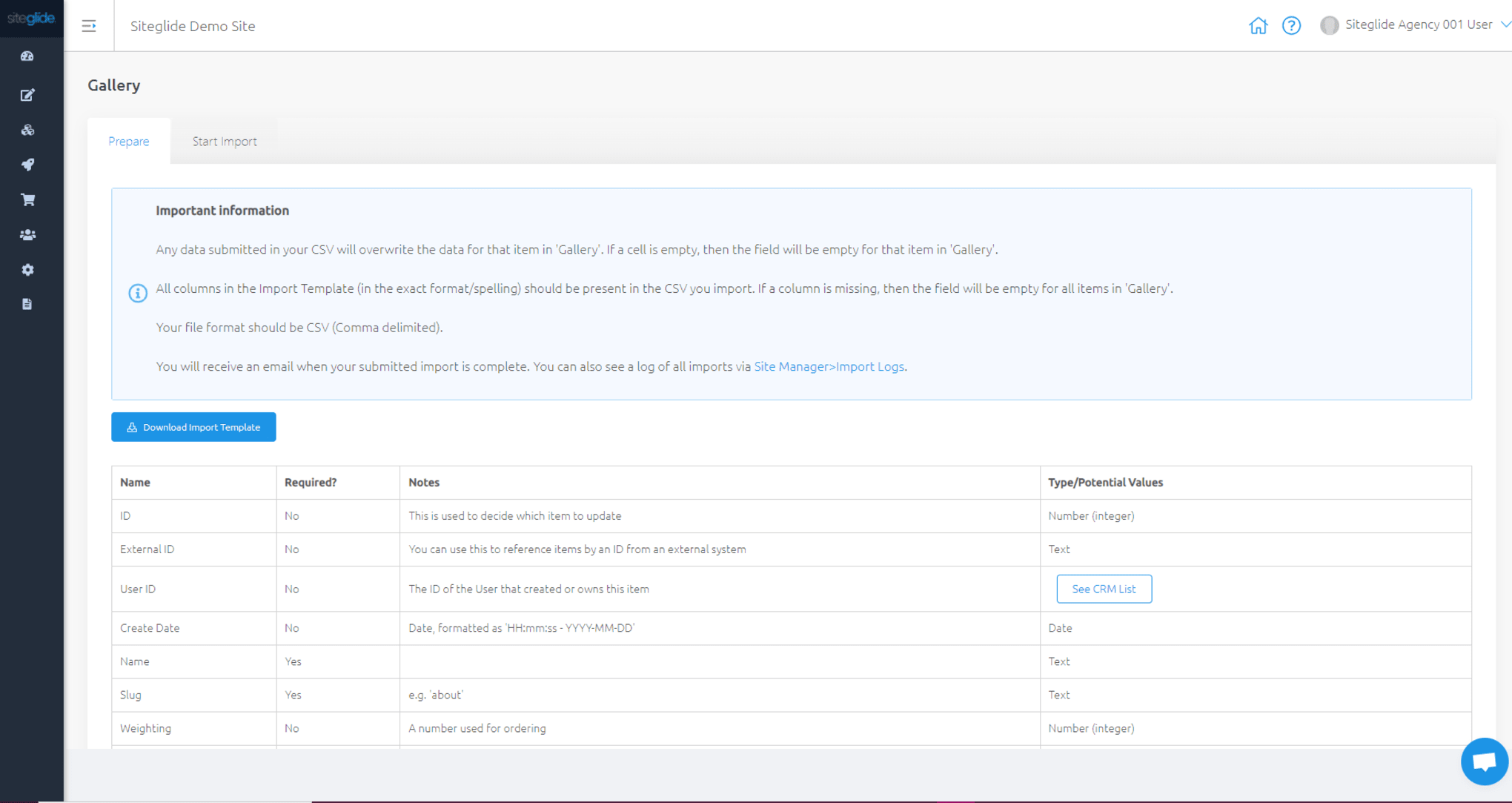 ---
Secure Zones
Secure pages and content on your site behind locked zones and have users sign up to gain access. Users can also create their own unique username and password.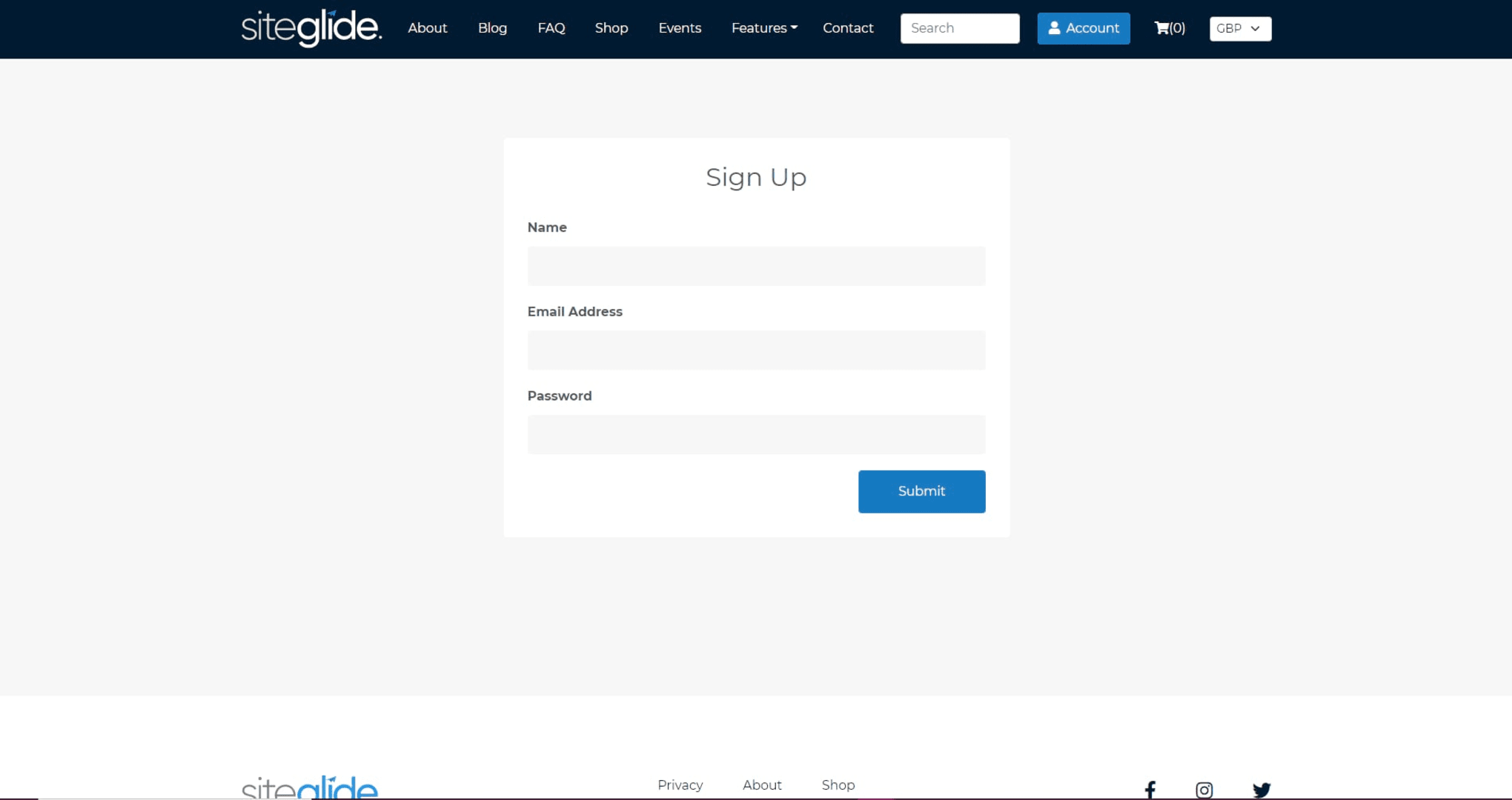 ---
Testimonials
Quickly add client testimonials to your sites and then make them accessible anywhere on the site.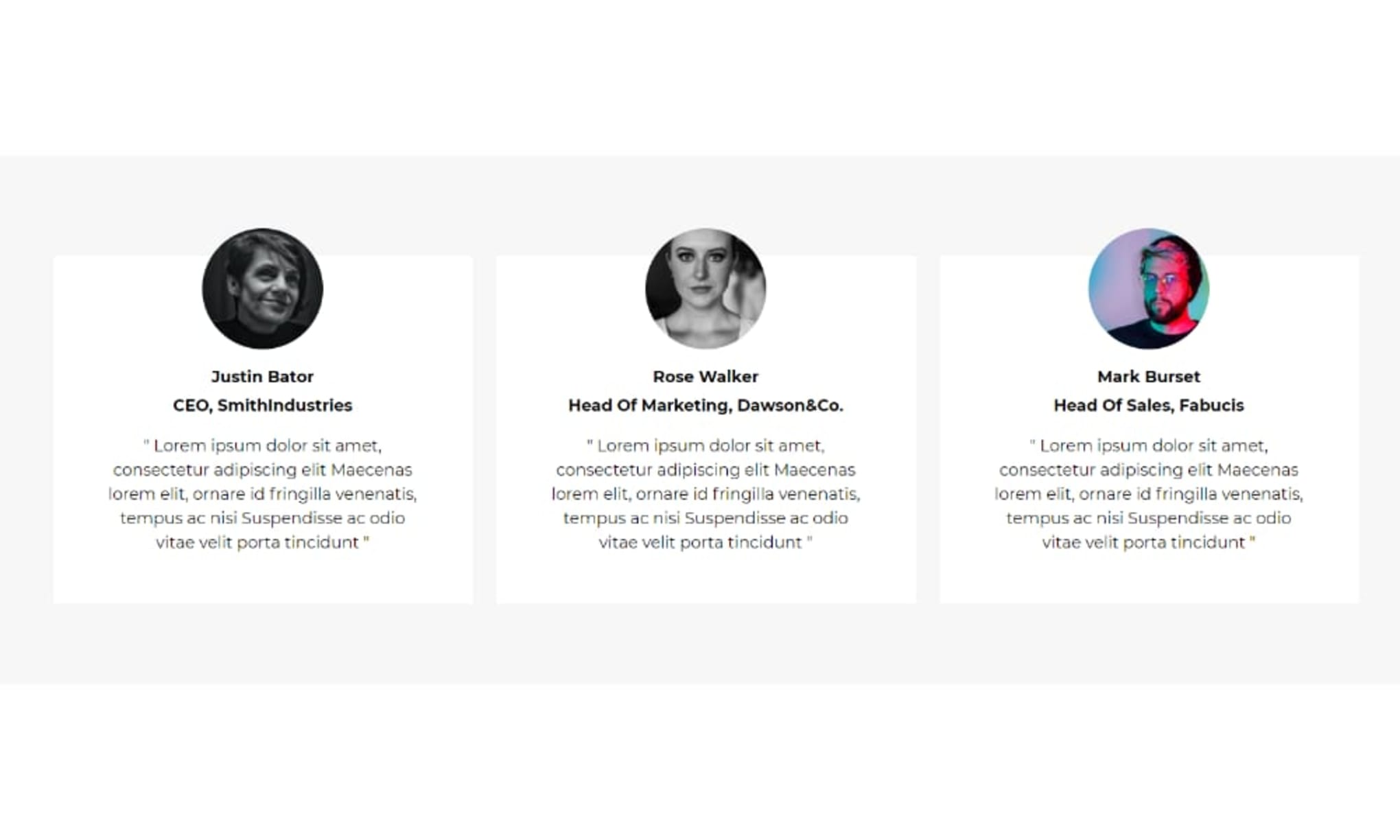 ---
FAQ's
Create an FAQ section for websites with ease, then customise as required.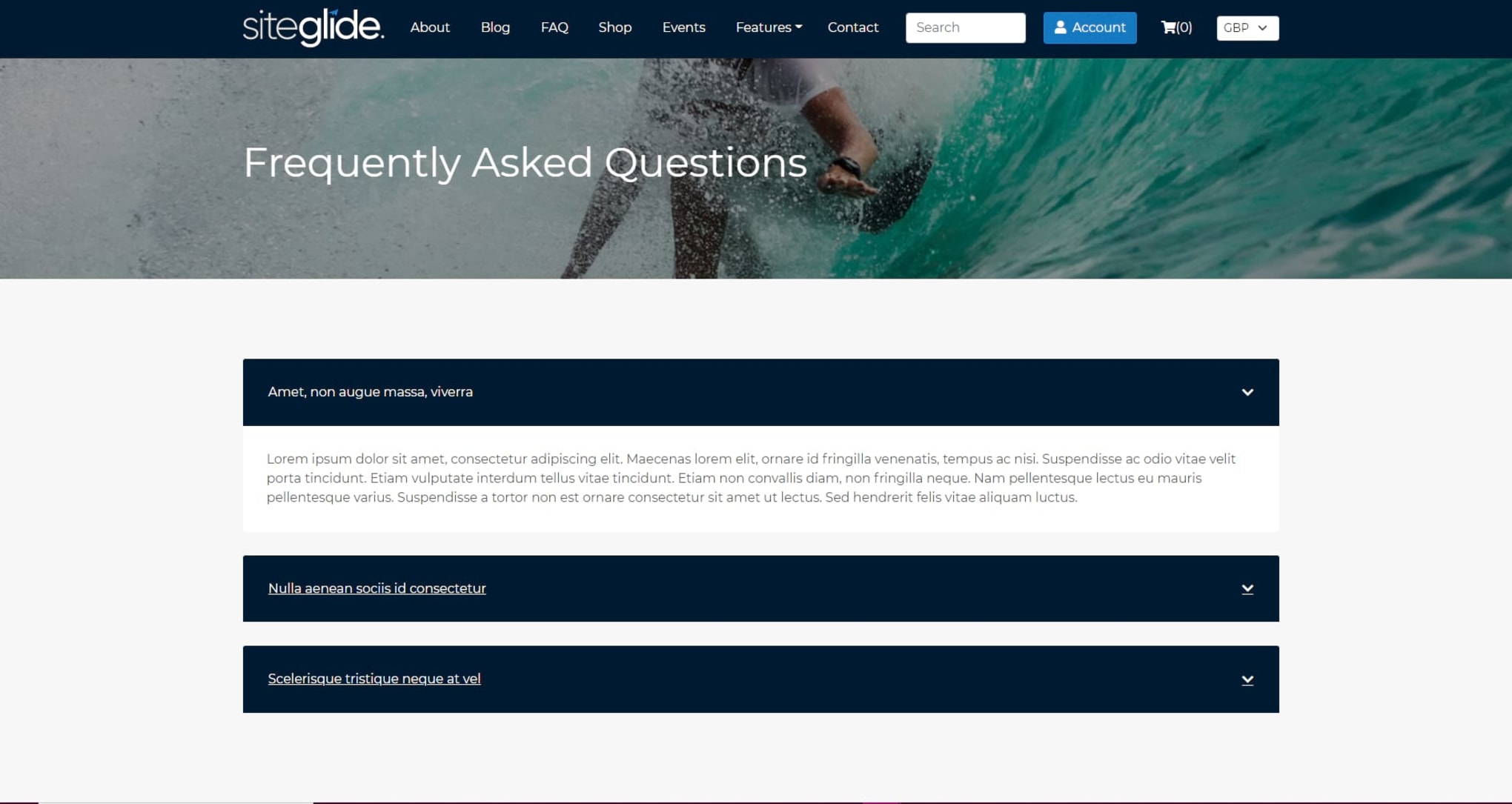 ---
Front end Submission
Users can create items via a form and it submit to the site or their Secure Area.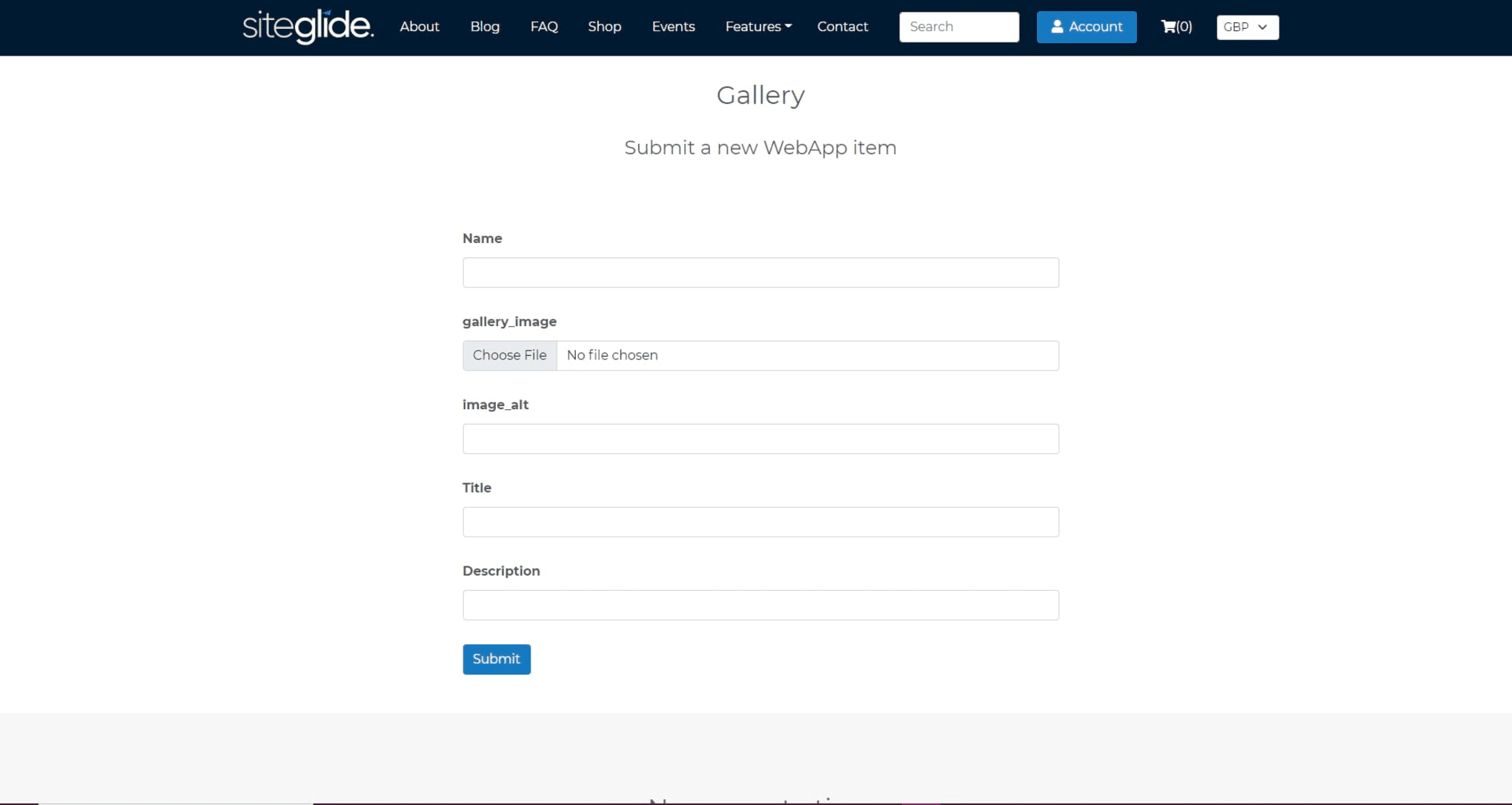 ---
Payment Gateway
Stripe, Authorise.net, PayPal and other leading Gateways to come (all PCI compliant).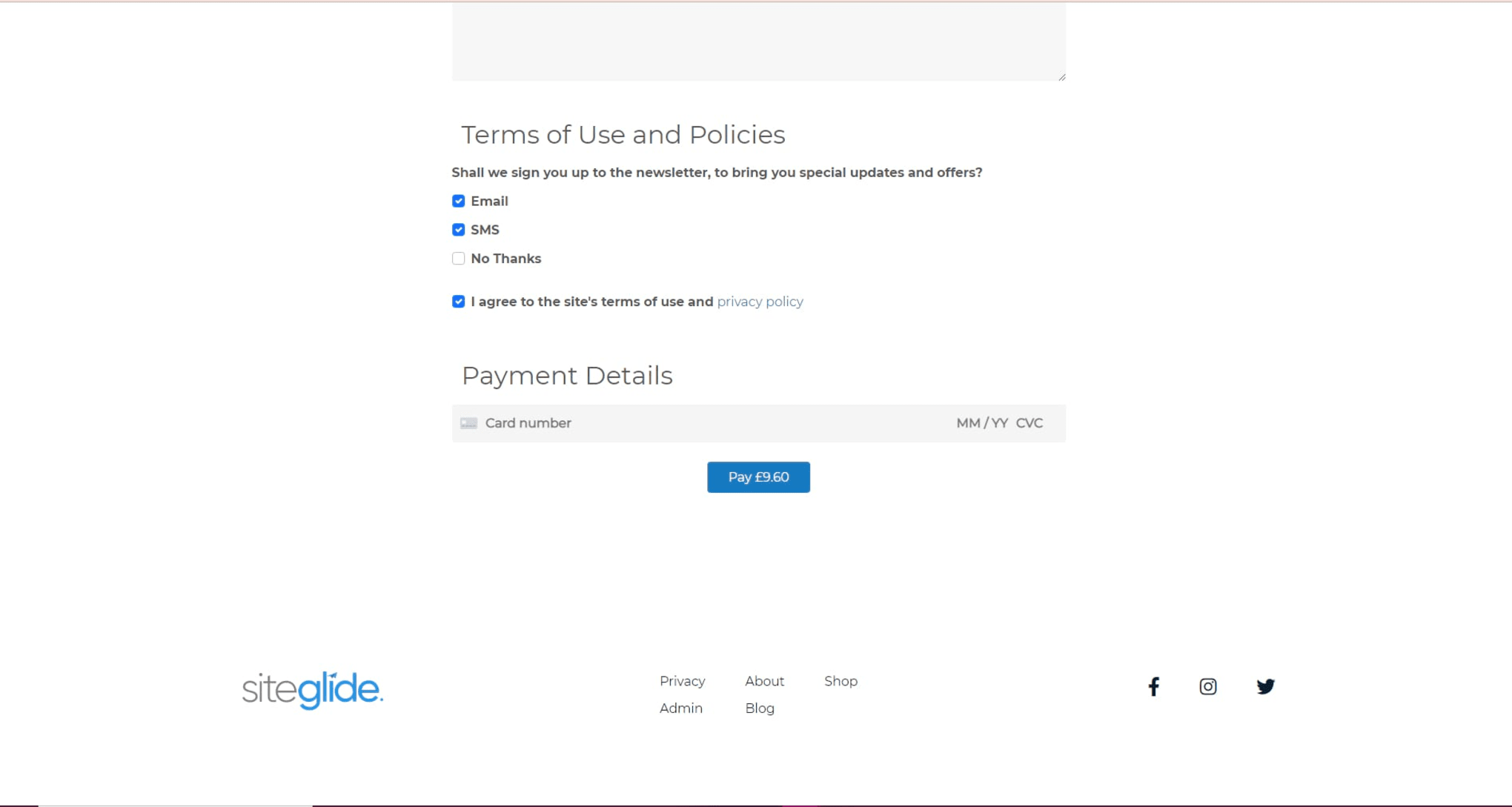 ---
Attributes
Create product specific options such as size and colour. Amend the price, SKU and availability.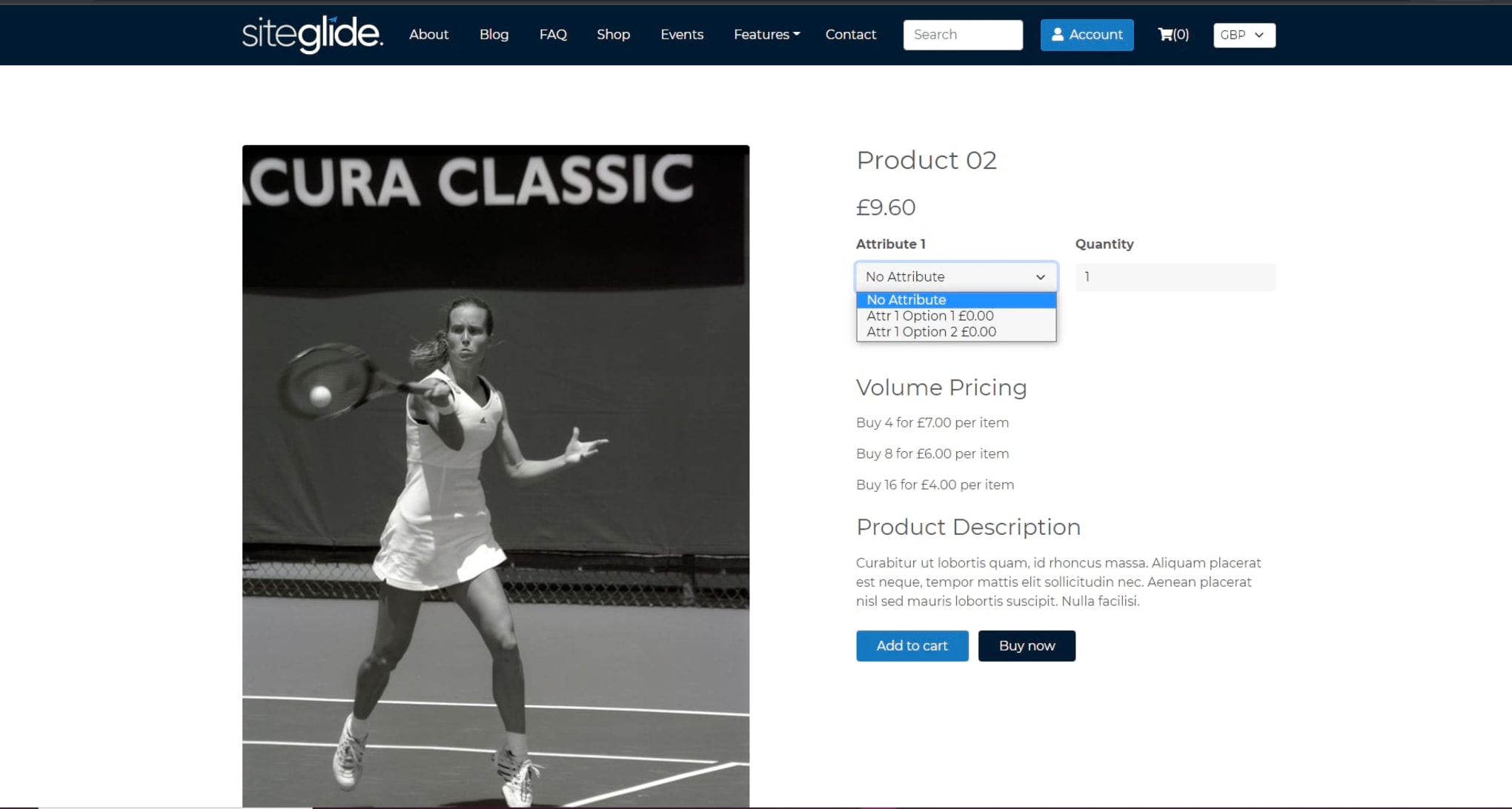 ---
Inventory
Manage stock levels, hide products or remove ability to purchase. Hook up to 3rd parties via API/Zapier.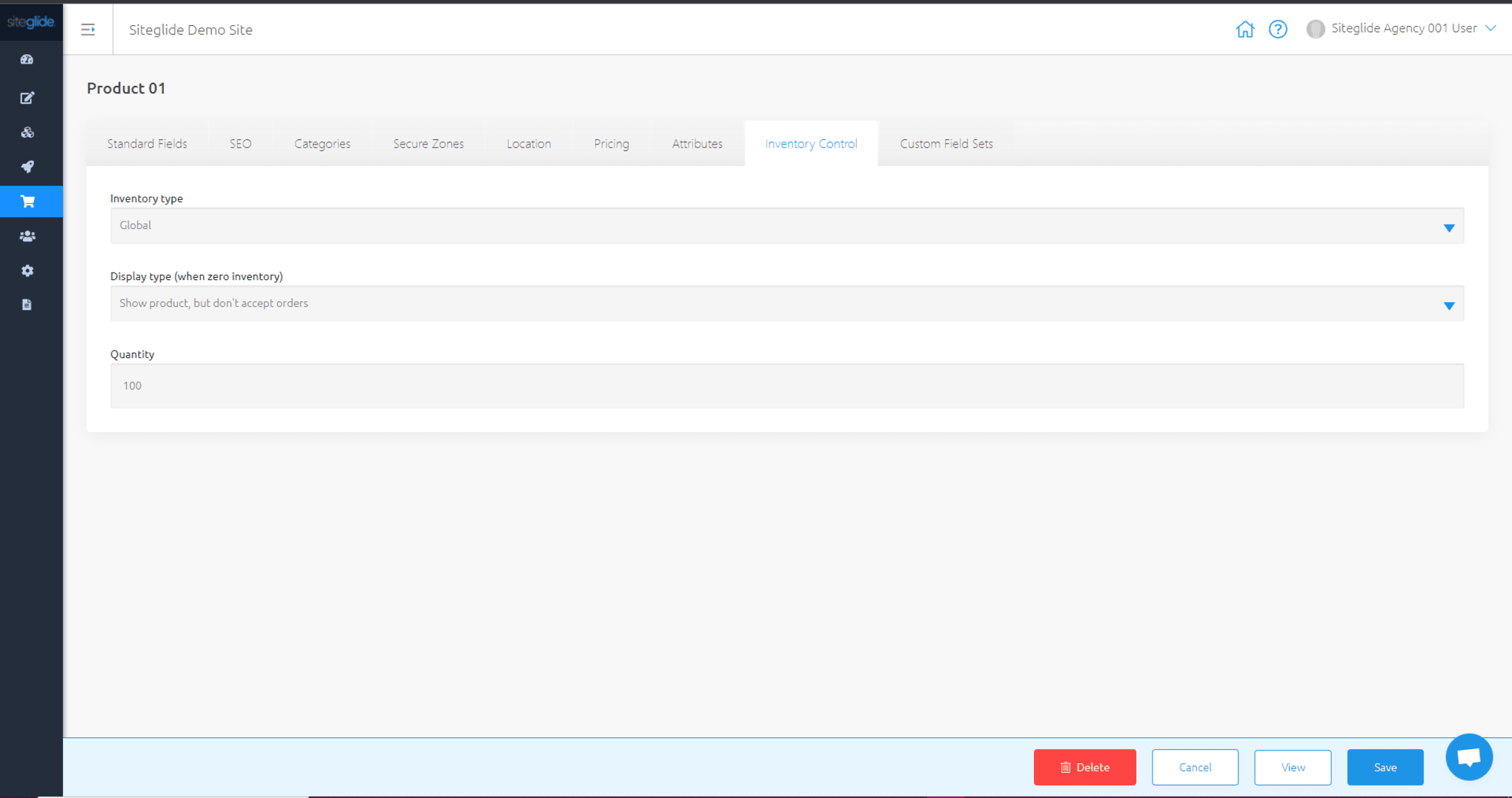 ---
SEO Settings
Fully optimise your eCommerceStore for maximum sales using the pre-built fields or adjust the layouts as required.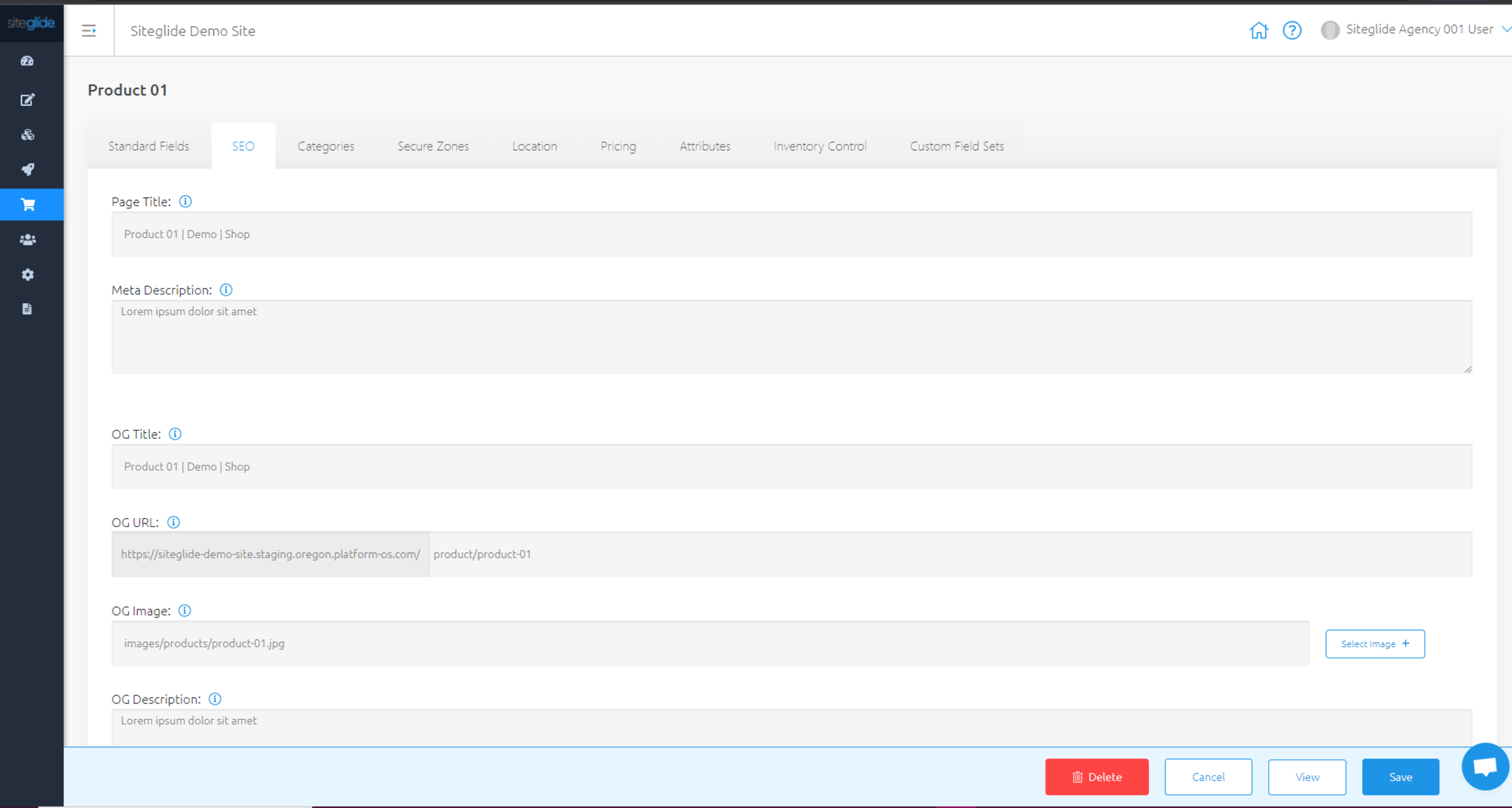 ---
Currency
Set up your store in any currency and manage pricing including RRP and sale price.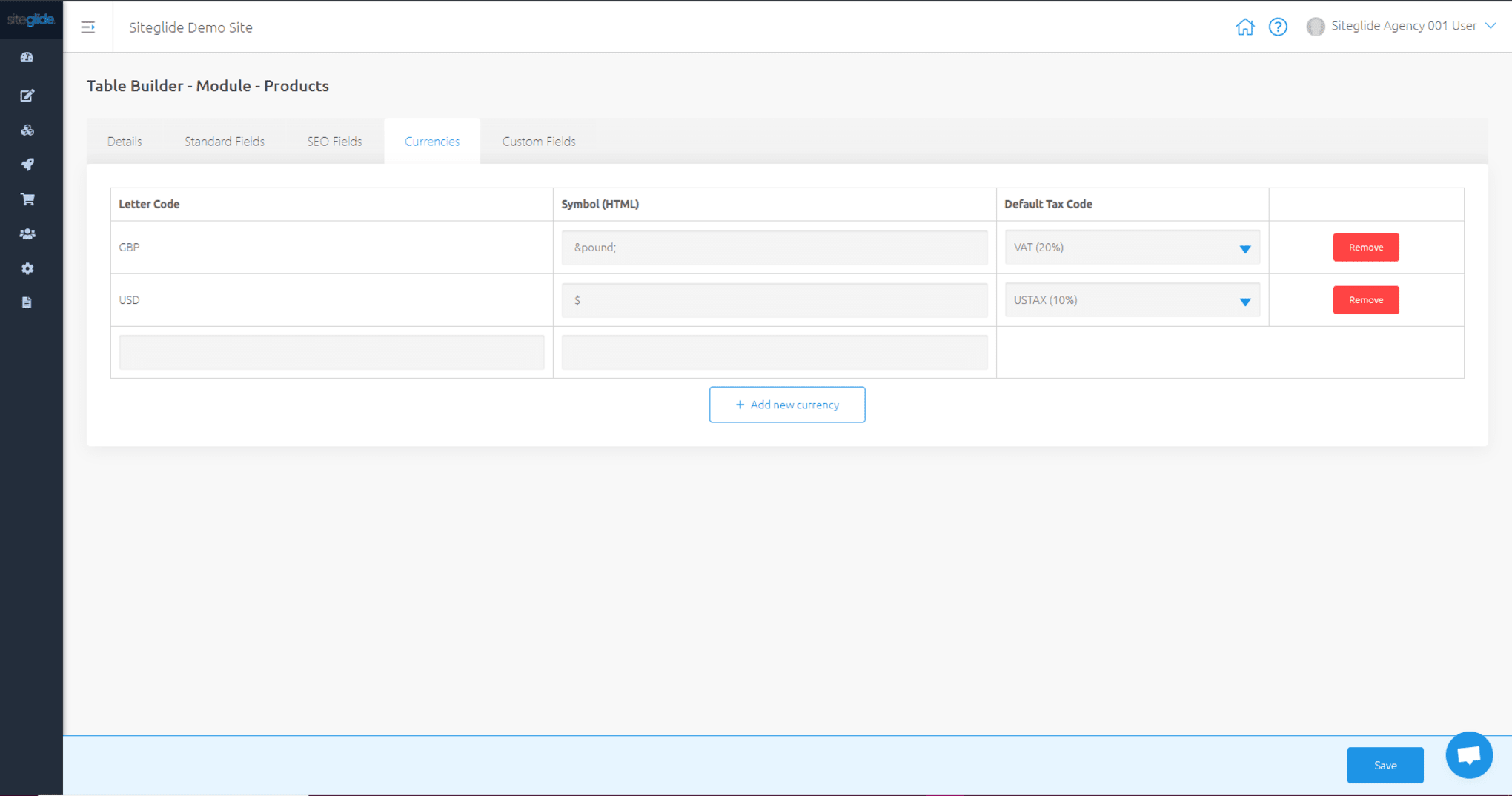 ---
Client Accounts
Create and manage client accounts then link sites and users to them.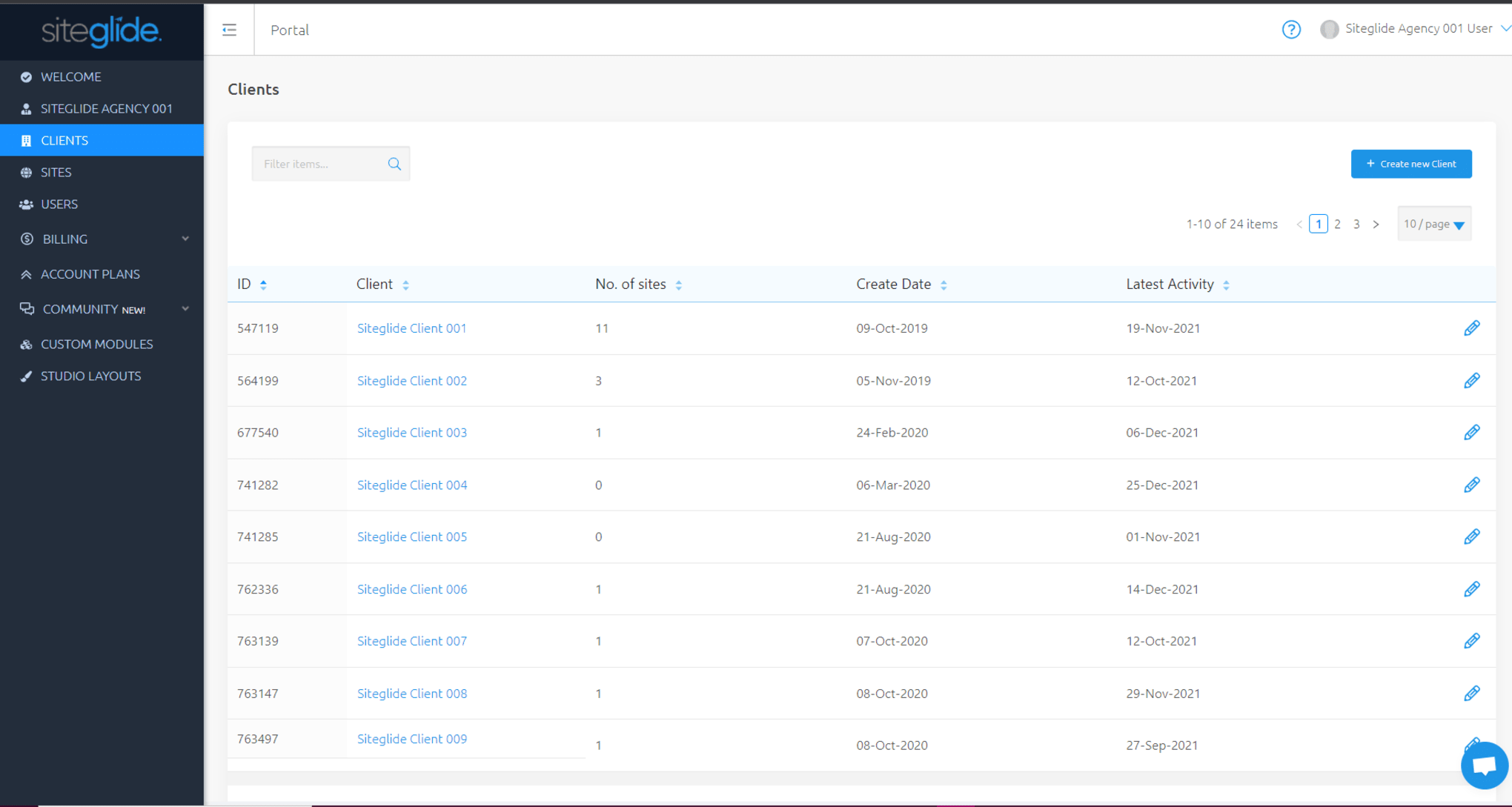 ---
Trial Sites
Create trial websites for starting development projects or just testing features and ideas.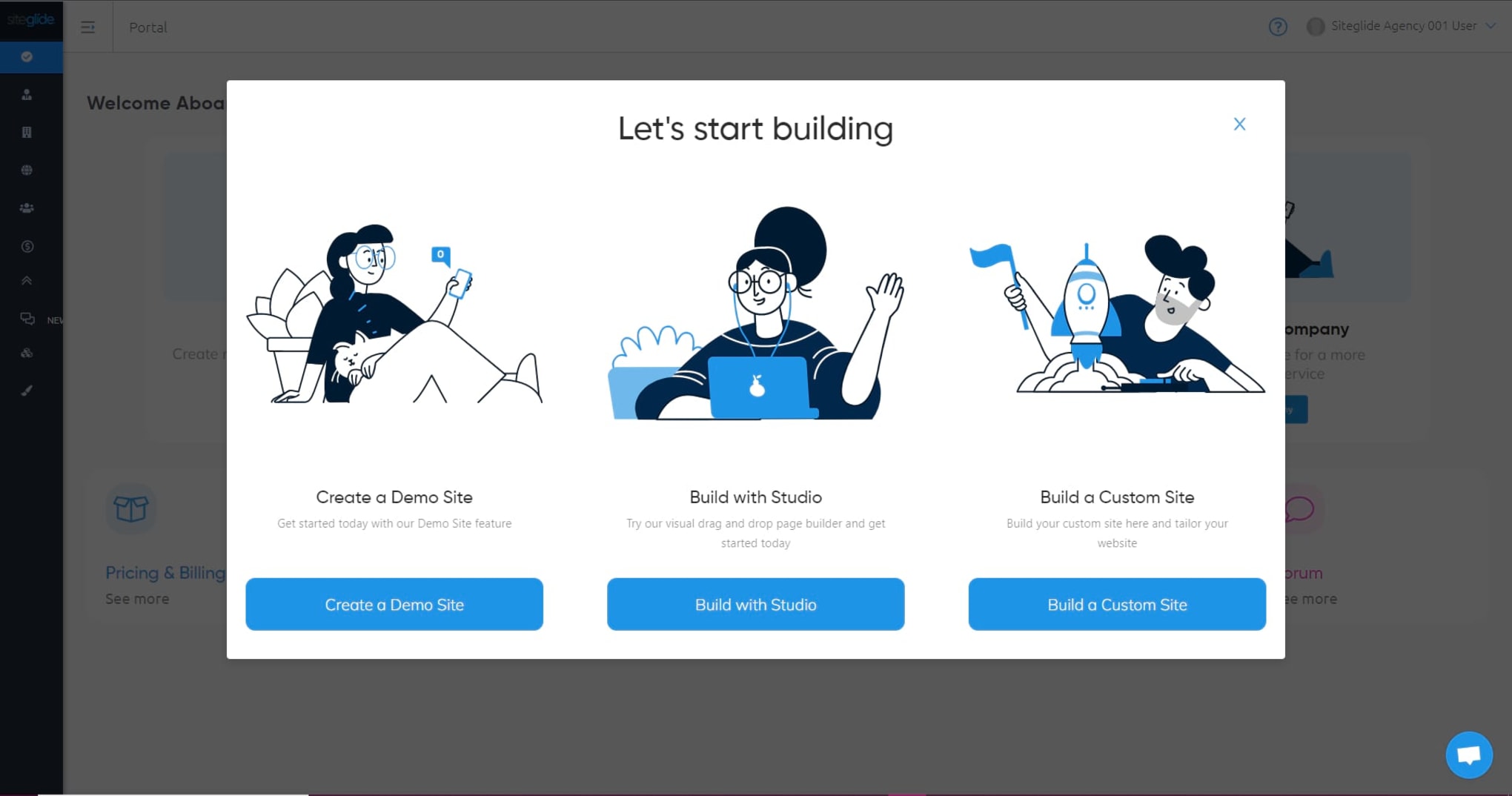 ---
Global Datacenters
Using the latest AWS technology you can choose from US, EU or AU datacentres.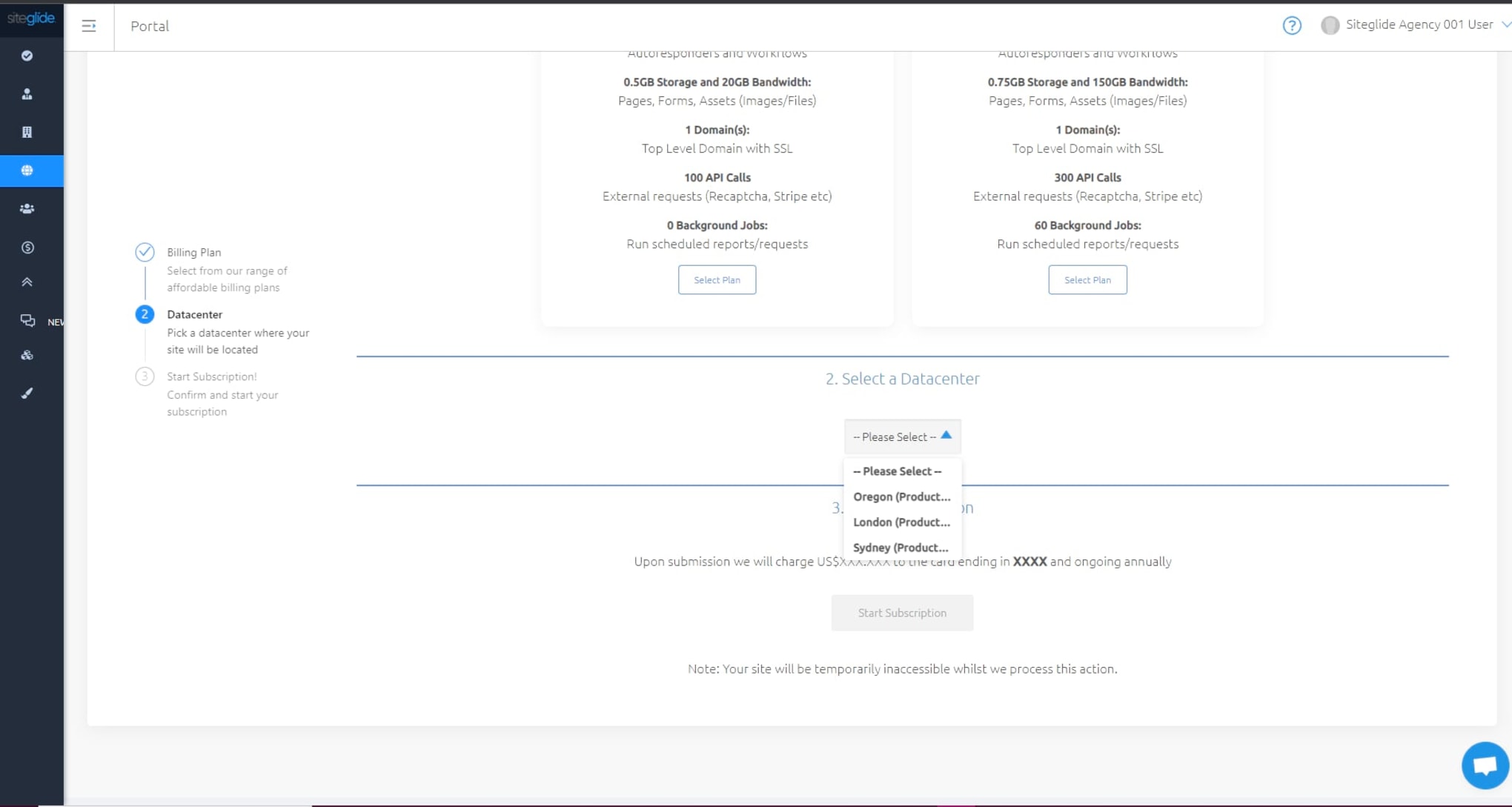 ---
CloudfrontCDN
We use the AWS CloudfrontContent Delivery Network for maximum speed and performance.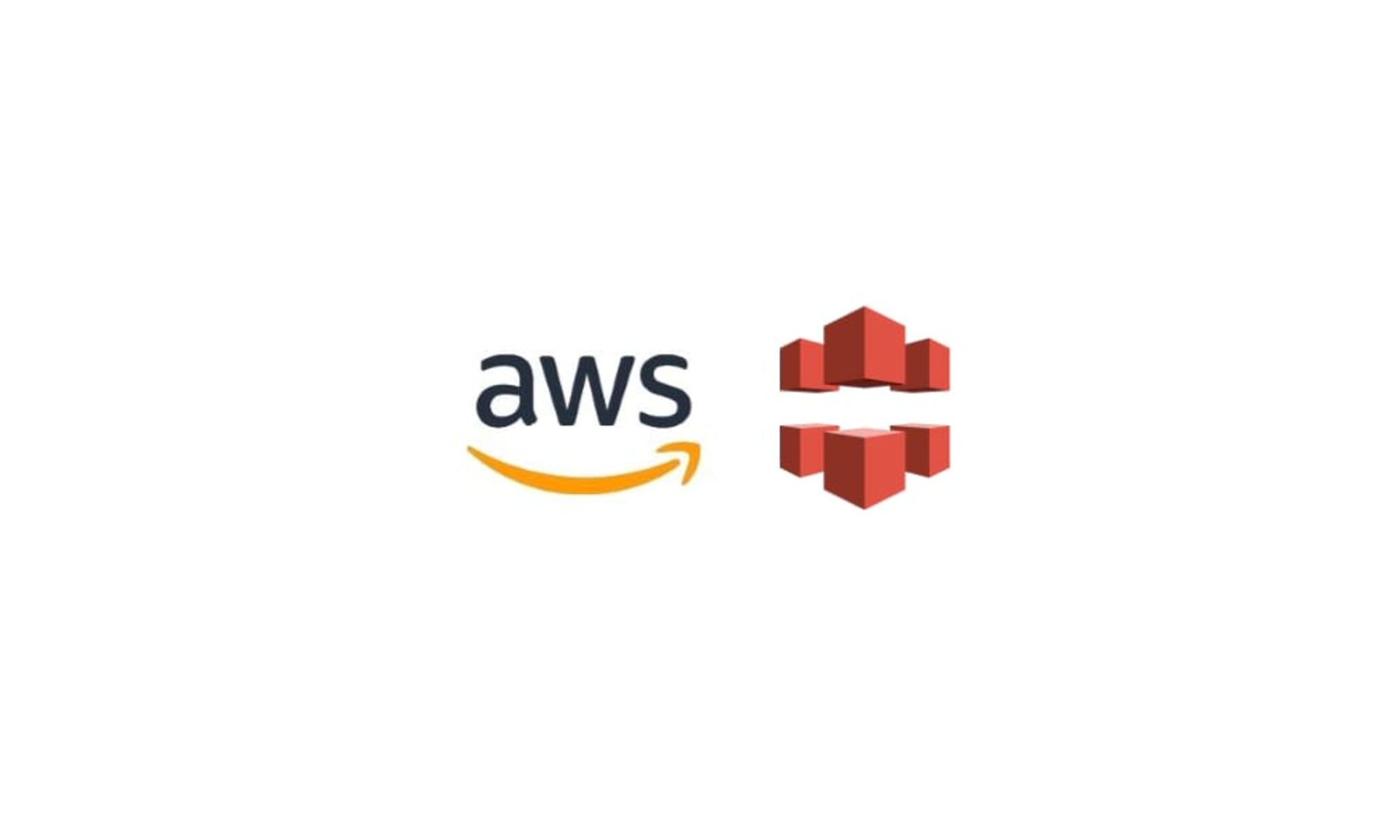 ---
User Management
Invite clients to manage sites as well as agency staff to manage clients/sites/users/billing.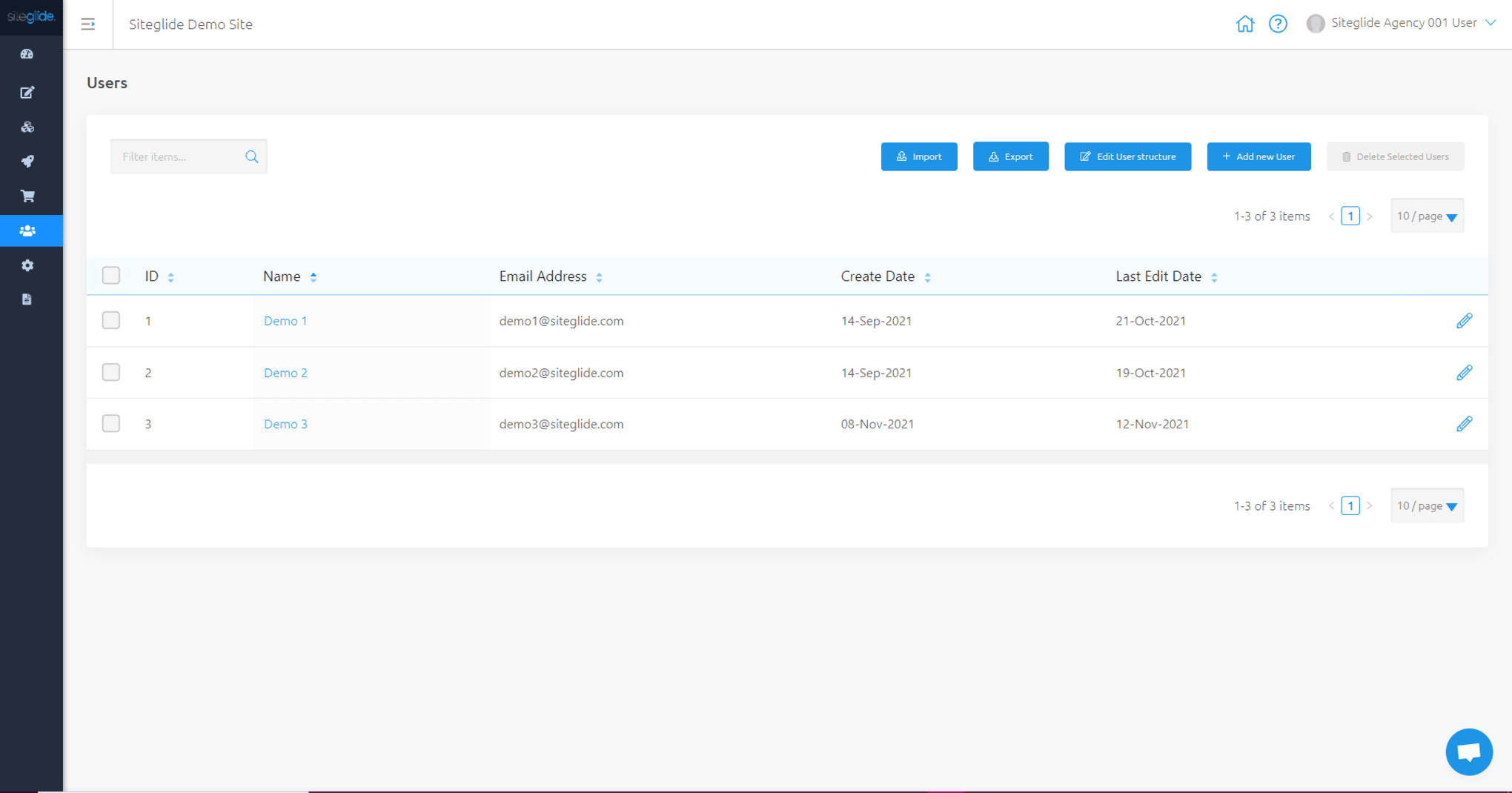 ---
Siteglide CLI
Take total control via our Command Line Interface (CLI). Work in your chosen IDE.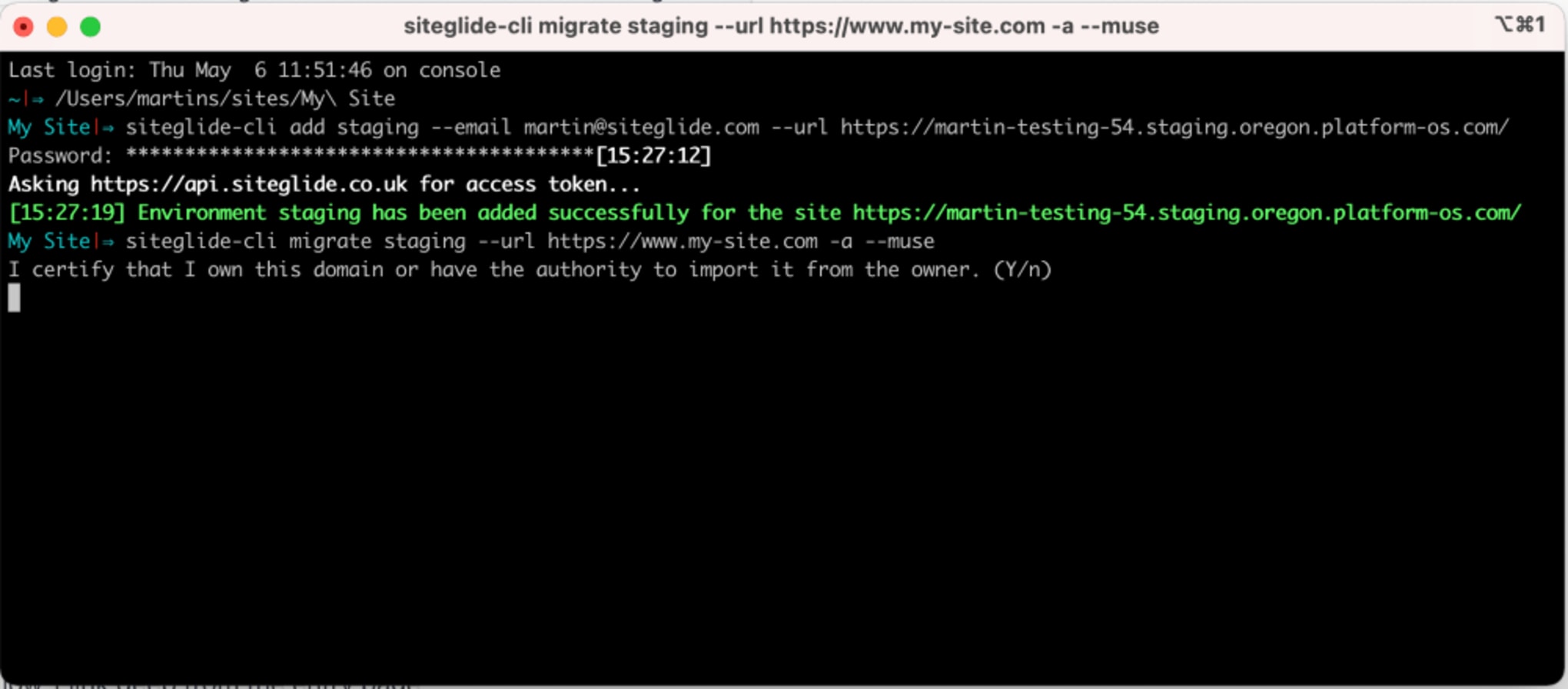 ---
GithubVersioning
We automatically integrate with Githubto store all code with versioning (commits) for backups and traceability.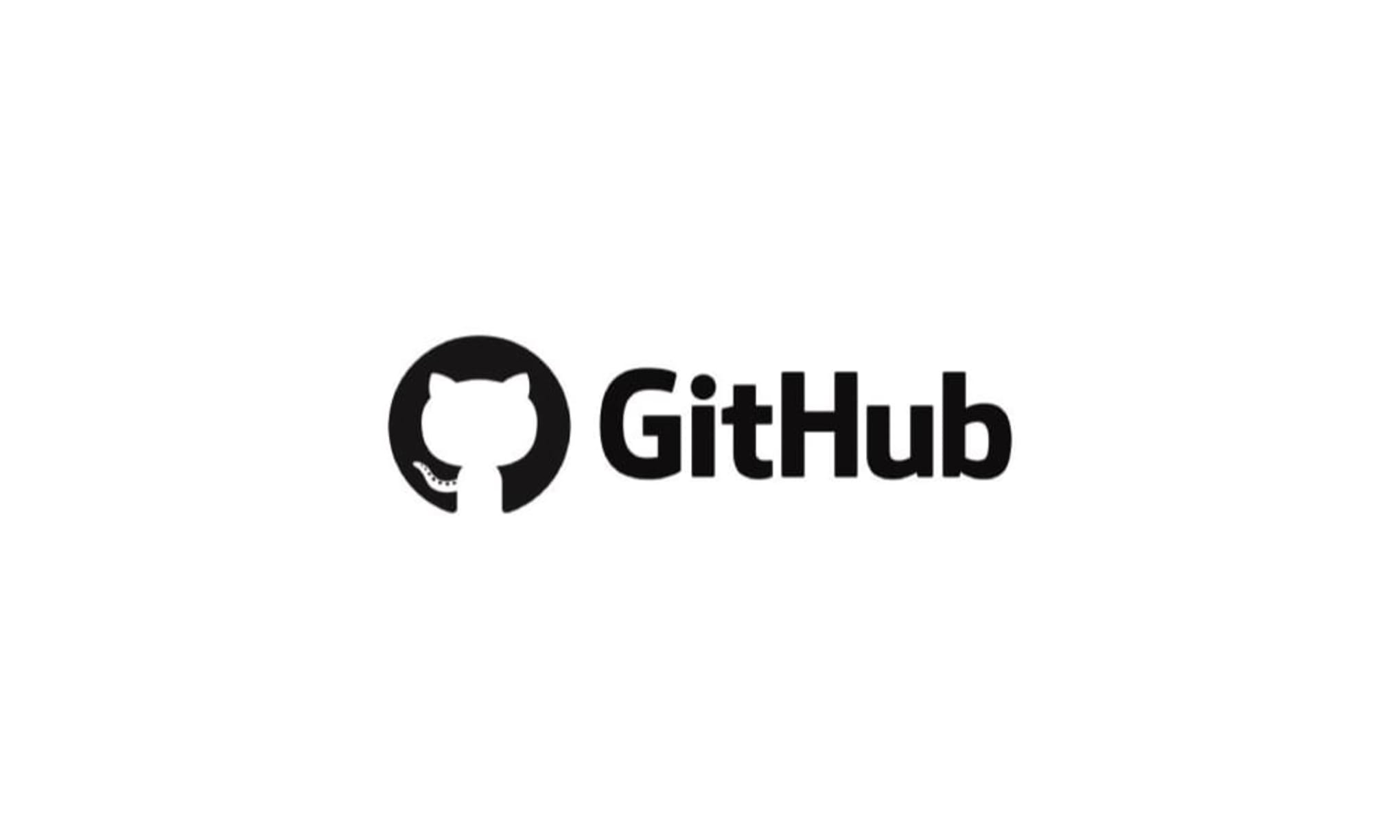 ---
Public API
Use our Public API to create bespoke integrations to external 3rd party systems.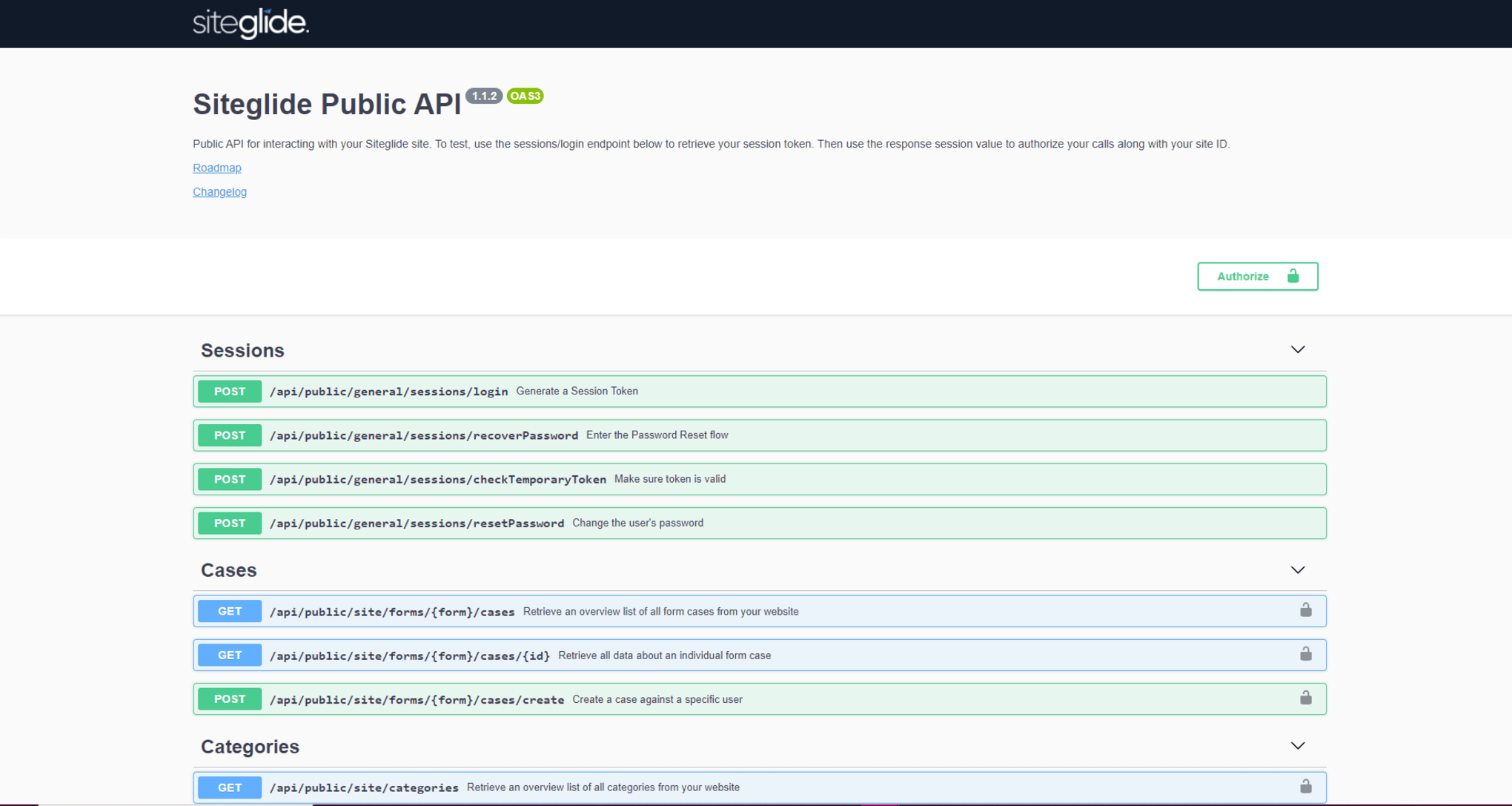 ---
ZapierIntegration
Using our Public API we have build a Zapierintegration to quickly integrate with 1000s of apps!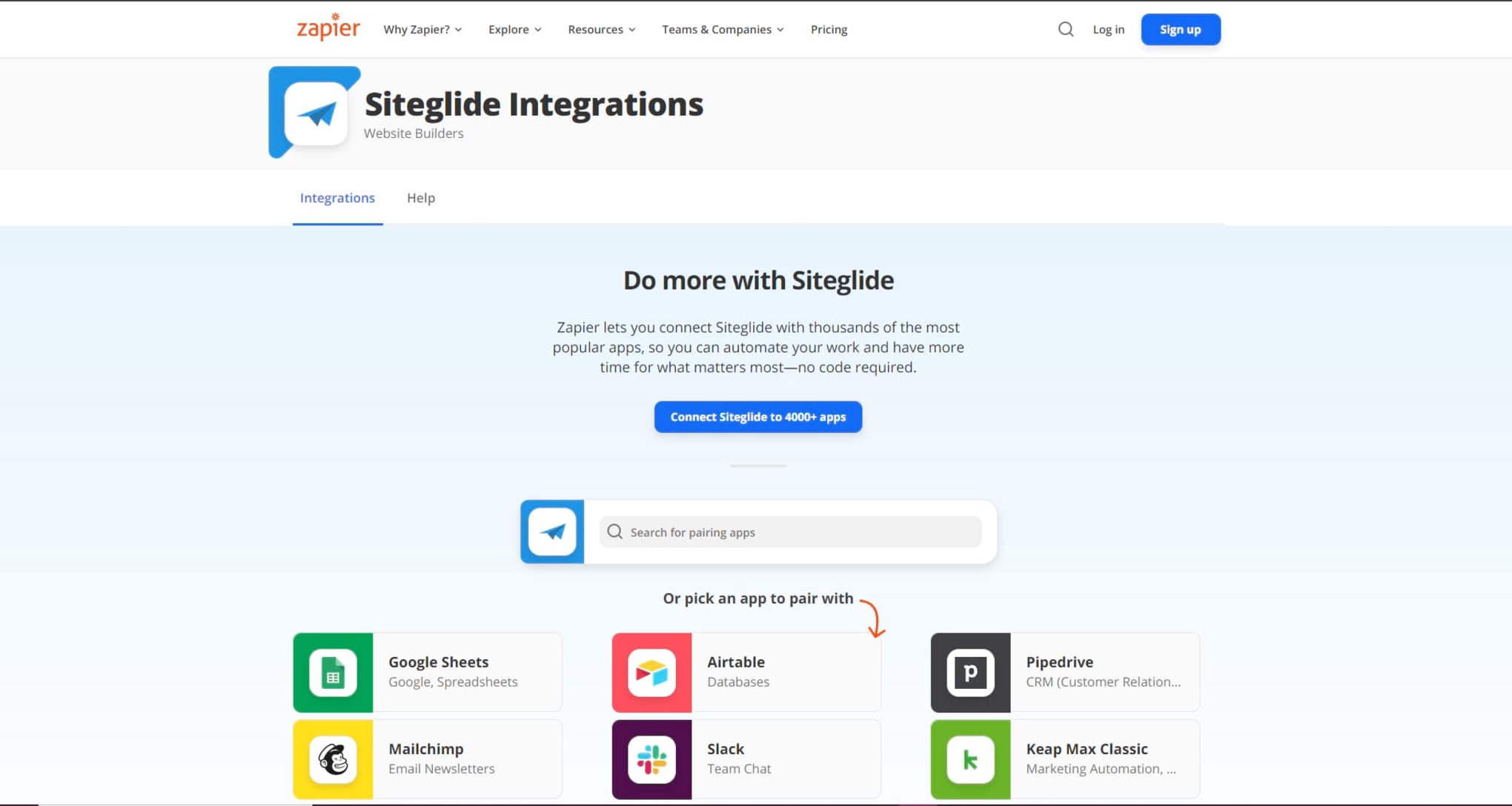 ---
Authors
Use authors in conjunction with the Blog or Events modules to display who has written a piece of content or who is hosting an Event.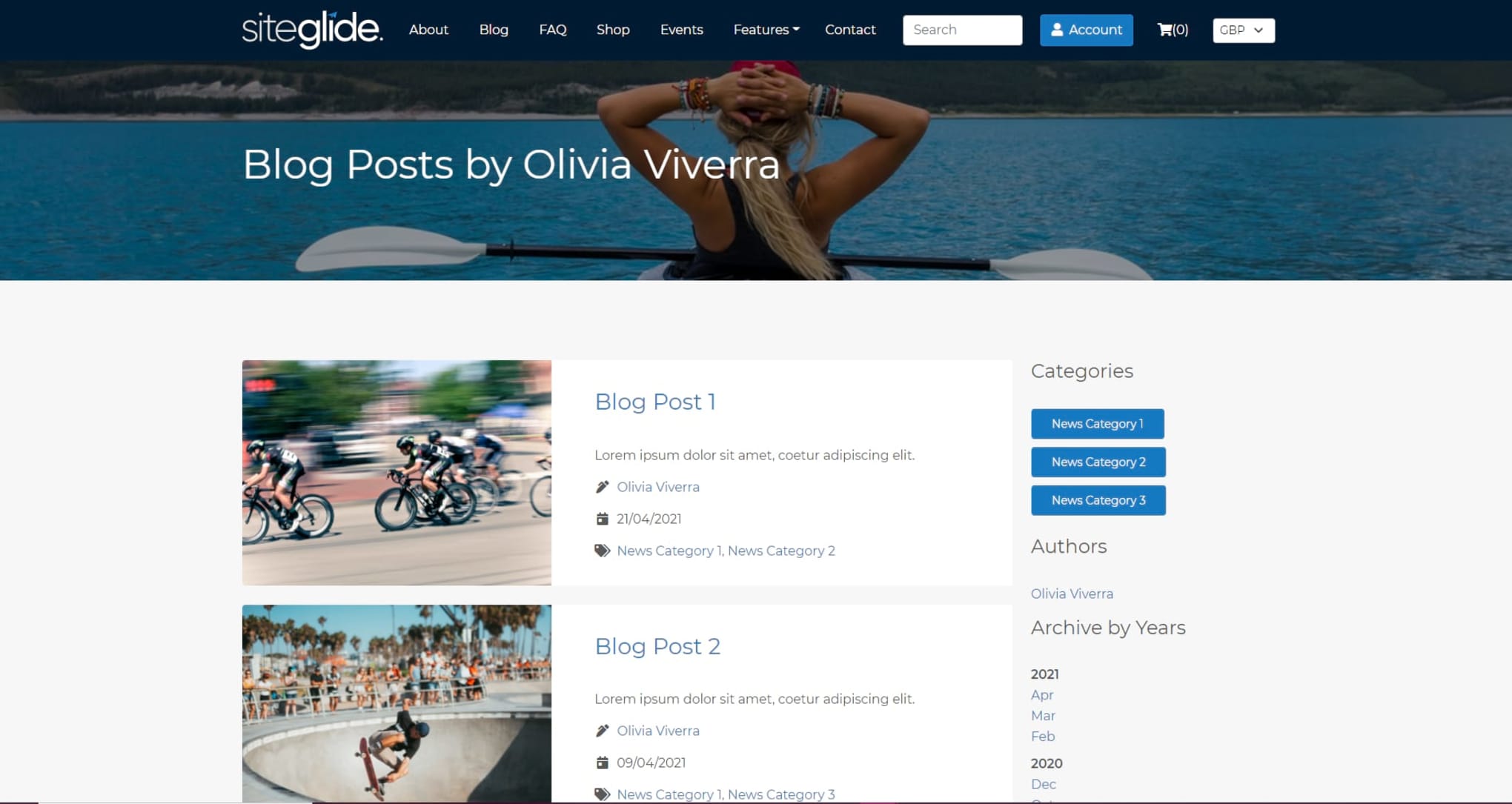 ---
Events
Attract attendees for both online and physical events. Display information with a range of views including List, Calendar and Map while managing tickets and orders.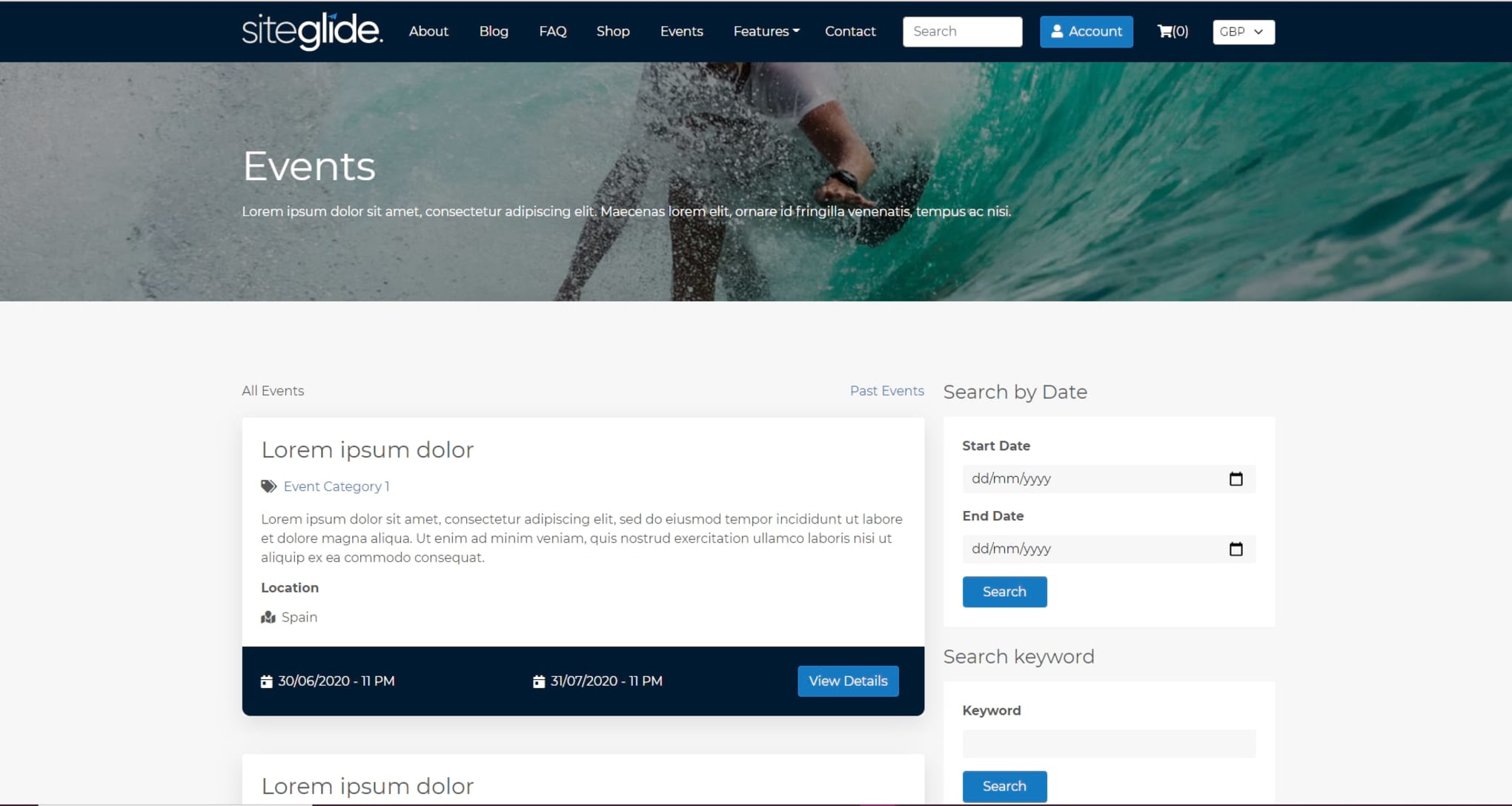 ---
Media Downloads
Upload secure content to your site and control access on a per-user basis to maintain its value.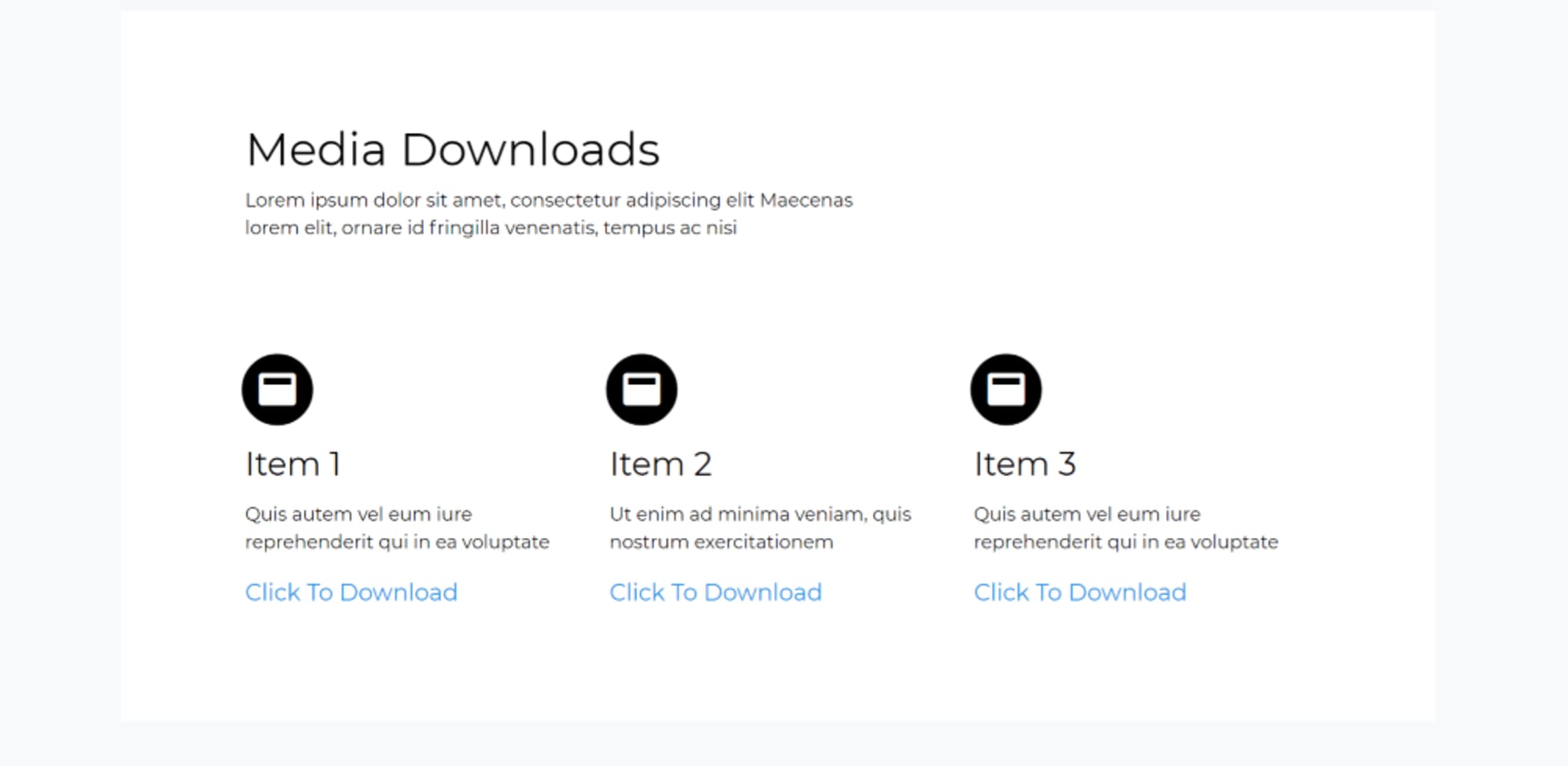 ---
Discount Codes
Create personalised discount codes for customers to use on checkout.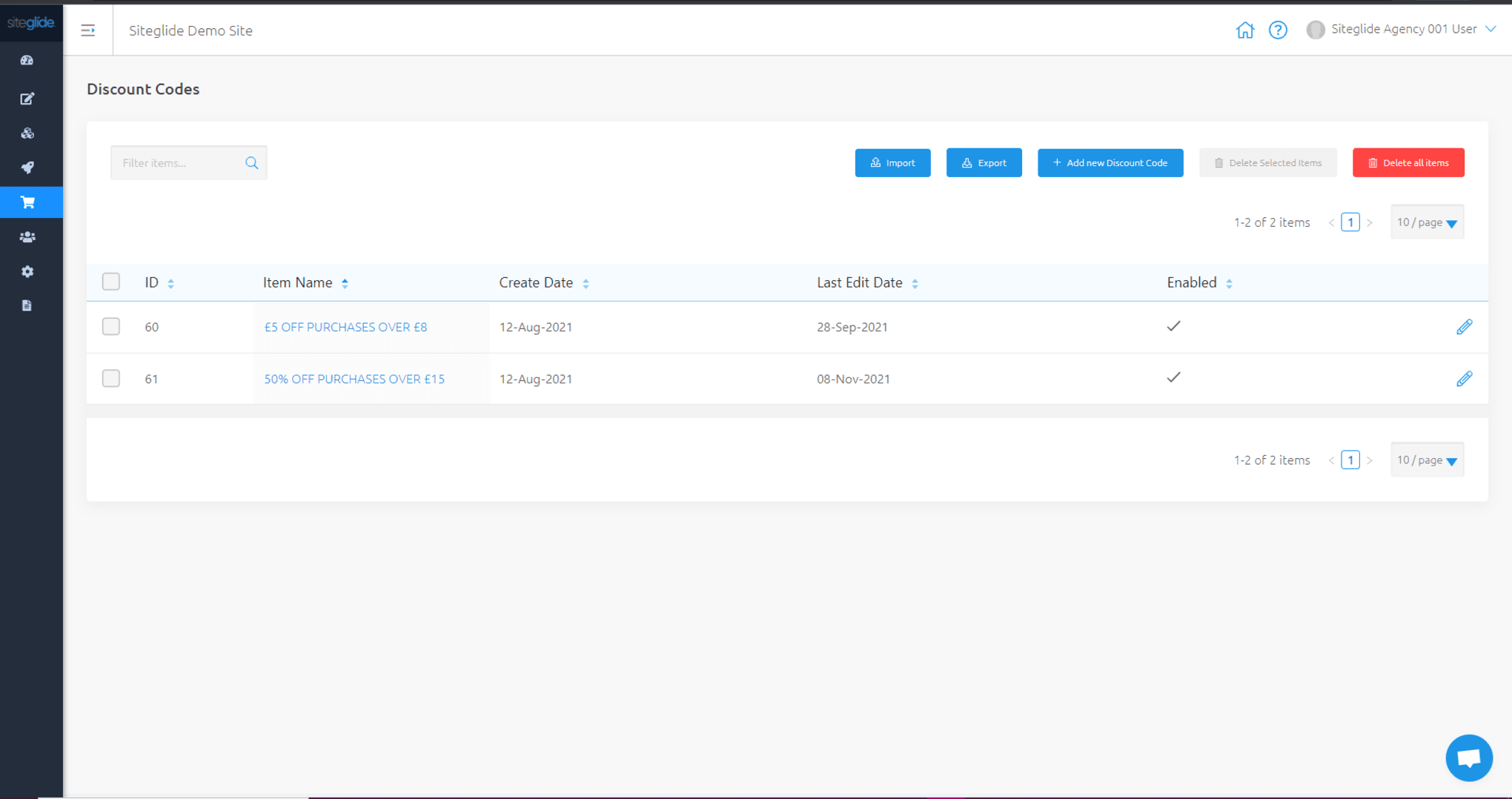 ---
Tax Codes
Apply tax codes to products that can be used at checkout.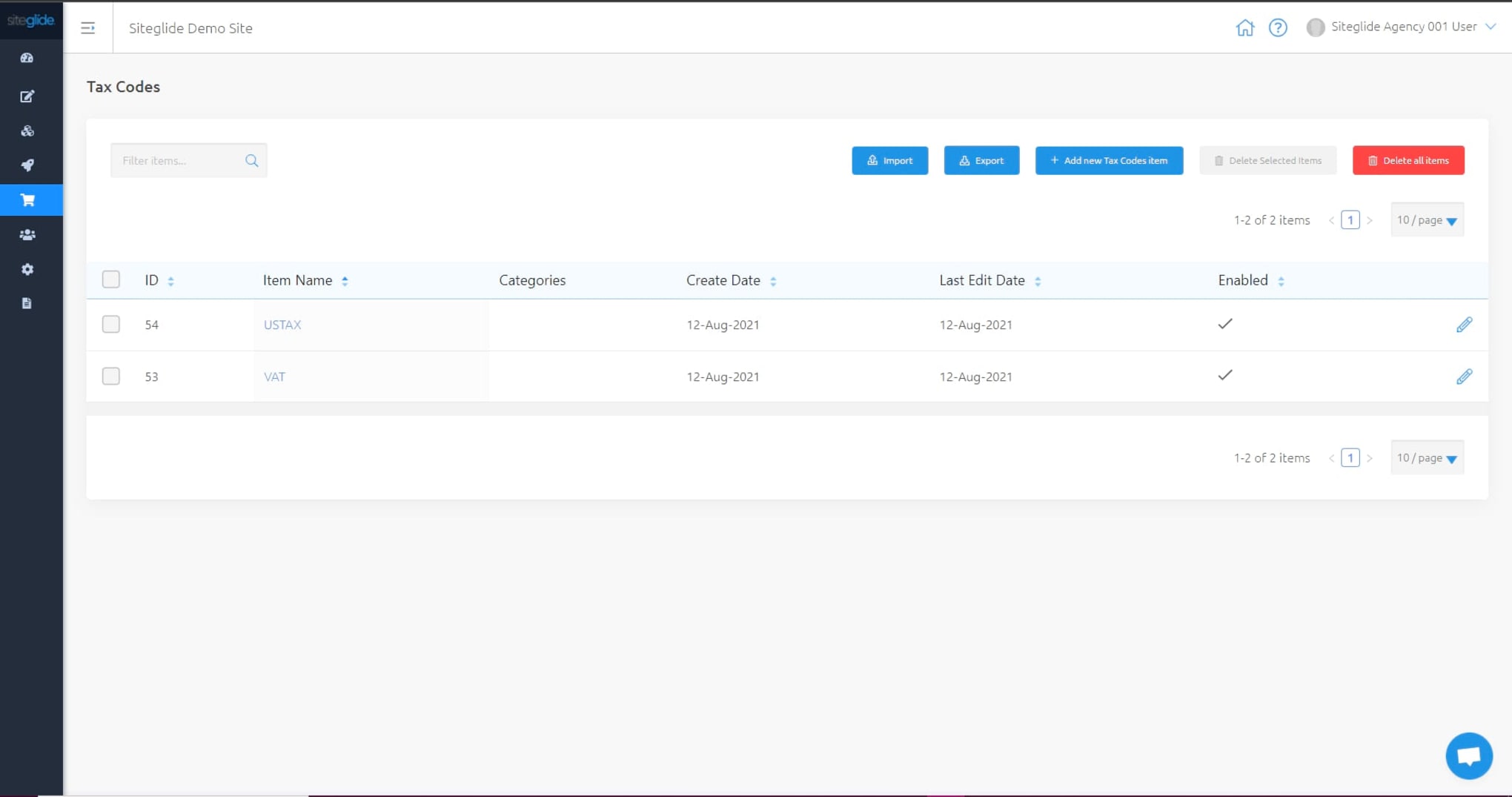 ---
DNS Management
Manage domains and DNS records for sites.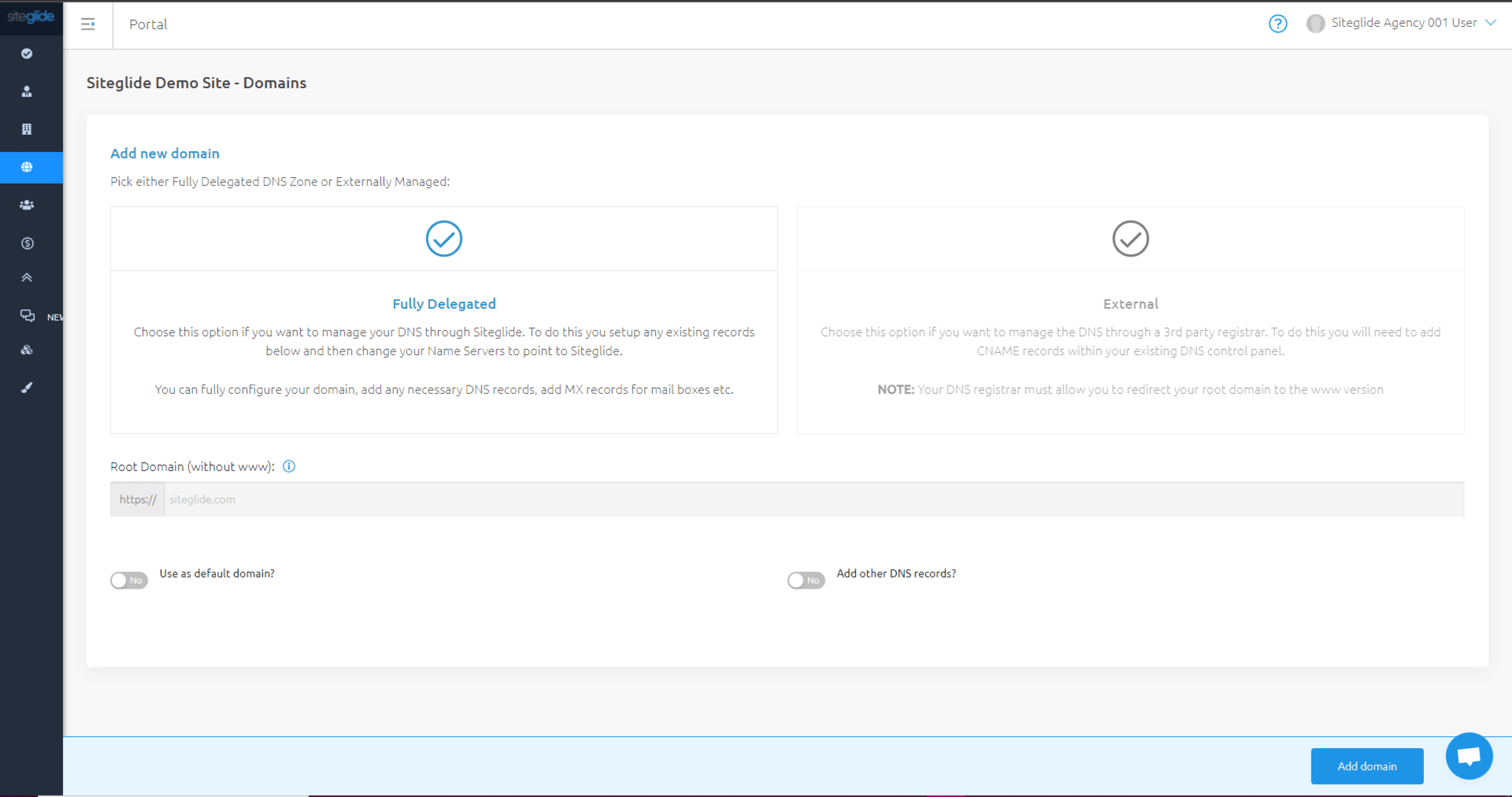 Our Apps are ready to go, ready to market, ready to use, and ready to populate!
Regards,
Steven Peacock, Managing Director, CIO,
go2Digital/Peacock Digital